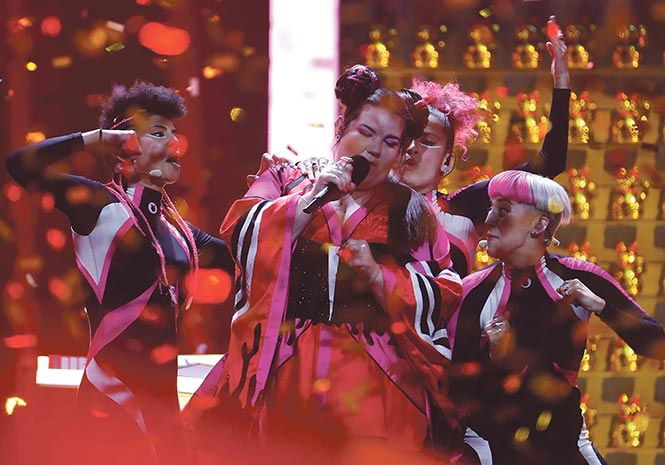 SATURDAY saw about 300 million people tune in to the Eurovision Song Contest, including 3.1 million of us in Spain. 
The show was hosted by our neighbours in Portugal, with Saturday's final rounding off a seemingly never ending cycle of heats and semi-finals. Lisboetas must have been pleased when the final vote was cast and they got their city back. 
Hardcore Eurovision fans are a dizzy mix of people who take the whole thing far too seriously and usually have a large collection of flags. You will have no doubt guessed that I accepted an invitation to a flag waving pool party and then thought better of it, only to find that my local abrevadero was showing the final live and yes, I came home with both a UK and a Spanish flag! 
Portugal gave Spain 14 points, Ireland gave the UK 10 (the best SuRie managed all night) and there was THAT stage invasion which in reality was a non-event. I thought the UK song was good and don't think 24th place is a fair reflection of the song or the performance. 
Mind you, the bottom four, Spain, the UK, Finland and hosts Portugal, in that order, didn't deserve to be so low down the placings. Well OK, the Finnish song was terrible and deserved 25th place. Sorry Finland. 
This Time Next Year (ITV) ended its second series on Tuesday with host Davina McCall being her usual fantastic self. Let's just take a moment to mention that red dress and how fantastic Davina is as a host. One year on and I would look just that, at least one year older, but Davina just looks the same. 
Homage over. There have been some inspirational stories, the couple who eventually had twins, the 11-year-old meningitis survivor and the chap who lost half his body weight to name but three. There will be a third series, assuming that the red dress can agree terms. 
TV news this week is dominated by the BBC announcing that McMafia will return for a second series. McMafia tells the story of Alex Godman, a Russian exile and his journey into a multinational underworld. The show is the fourth most watched on BBC iPlayer and I can't wait for it to return. Sticking with news from the BBC, Matt LeBlanc has been grizzling about what a hard time he had joining Top Gear. Really Matt, you get to do big-boy stuff with cars, you are paid really well, viewing numbers are up and the show goes from strength to strength. It must be really difficulty for you. 
First Dates (Channel 4) has moved from Wednesday evenings to a prime slot on Thursday. This week a descendant of Henry VIII and a butler who is mad about the Royals are looking for love. There is even a Kate Middleton look alike. Will she find her Prince – well there aren't too many left. 
Looking ahead, the BBC and ITV are showing the Royal Wedding on Saturday and the FA Cup Final is on BBC 1 later in the day. If that doesn't appeal, FILM4 are showing the classic Carry on Spying on Saturday afternoon. This was Barbara Windsor's first Carry On and it's a gem. 
I'm off to dust off those flags, ready for Saturday's wedding. 
Happy viewing.