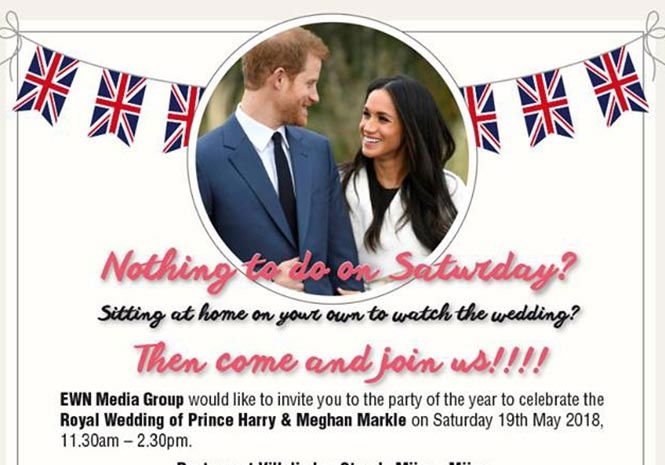 THE Costa del Sol expatriate community has once again shown its very best side at a time of need, and that is a real cause for celebration.
And as the Royal Wedding draws ever near, we sat and thought: 'How can we help people that might be sat at home on the big day?'
Our recent exclusive stories covering the squatters nightmare endured by 69-year-old Anita Pillay and husband Tony, who returned from a London trip to find their Torremolinos home occupied, sparked an overwhelming response.
And a campaign to help the heartbroken couple, who lost everything after the culprits fled with their belongings, saw Euro Weekly News' clients and readers unite.
Fuengirola-based firms Yorkshire Linen and Los Warehouse supplied new bedding and kitchenware, respectively, while Age Concern Costa del Sol got in touch to offer clothing free of charge.
Many people got in touch with offers of money, and one generous soul even donated a 32-inch flat screen television to replace the one stolen, which was a gift from the couple's son.
A delighted Anita this week said: "I can't actually thank everyone enough, with your support we are slowly managing to rebuild our lives.
"God bless you, thank you so much."
Hearing her words, an idea hit us. It came after we were honoured and privileged to receive an invitation to the British Embassy's garden party in Madrid.
The concept began to mushroom, and the community has once again pulled out all the stops and showed its incredible generosity, with volunteers galore from charities to businesses and British Consul Charmaine Arbouin.
We are delighted to announce a special FREE event at Restaurant Villalinda in Mijas – where Bob and Linda have kindly donated their beautiful venue in stunning surroundings – at which Harry and Meghan's big day will be projected onto a large screen.
Featuring the sensational singing voices of local talents Antony Wolfson and One Wish Steve, Pimms will be served on arrival followed by a light lunch and cava as the happy couple tie the knot, plus a special video message from the UK's ambassador to Spain, Simon Manley.
There will also be a raffle with great prizes donated by our wonderful clients, and a special prize for the best-dressed attendee on the day, sponsored by Currencies Direct.
So, there's no reason to sit alone this Saturday. If you are lonely, have a disability, or fancy getting out of the house, let us know. Transport can be arranged.
Places are limited so you MUST confirm in advance by calling organiser Nicki Burgess on 600 583 579 or emailing 
royalwedding@euroweeklynews.com by 11am tomorrow (Friday).
JOIN US!
Royal abode: Restaurant Villalinda, 
Ctra. Mijas-Fuengirola, 29650 Mijas
Time: 11.30am-2.30pm
Dress code: Make your Markle
THANKS TO JUST SOME OF THOSE THAT HELPED:
Restaurant Villalinda
Currencies Direct
Antony Wolfson
One Wish Steve
Iceland
Calvin's Hairdresser
Bunches Florist
Bing Asian Fusion
Don Alfonso Restaurant
La Parra Gold
Cardland