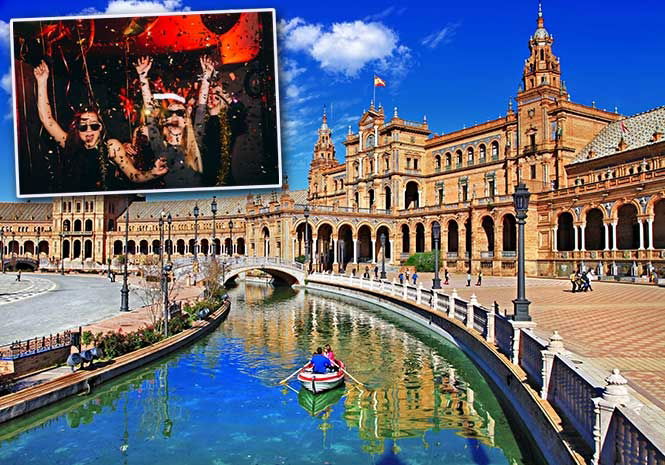 ANOTHER city in Spain is promising a big clampdown on stag and hen parties if police catch them in offensive costumes or if their behaviour is deemed offensive.
Police officers in Sevilla, the capital city of Andalucia in southern Spain, have been ordered to issue groups with a fixed penalty of up to €3,000 euros if their behaviour is deemed 'undignified' in any way under Article 15 of the Spanish constitution.
The clampdown comes in the wake of reports that a religious procession in the city clashed with a group of hens whacking each other over the heads with giant phallic inflatables.
Spanish police were called by the worshippers and moved the hen party on.
Recently authorities on the Costa del Sol warned that stag and hen parties are to be fined up to €750 for roaming the streets of Marbella drunk, semi-naked or wielding inflatable sex toys.
They vowed to launch a crackdown on raucous behaviour amid fears that the upmarket city's image was being ruined.
New laws banning disorderly behaviour, nudity and semi-nudity, and swimwear on the holiday hotspot's streets are set to be in place before the summer season.
According to official documents it will be illegal to be seen in public "naked, semi-naked, with a naked torso, in underwear, with clothes or accessories that represent the genitals or other intimate body parts, or with dolls, devices, symbols or elements of a sexual nature."
Bikinis and other swimwear will also be outlawed "except in swimming pools and on the beach."
Police will reportedly issue an initial warning to offenders, with those who argue or ignore them slapped with fines.
The decree will also see anyone harassing children, the elderly or disabled face penalties of up to €3,000, while individuals charged with 'discriminatory behaviour,' including racist, sexist or homophobic insults, will be forced to pay up to €1,500.