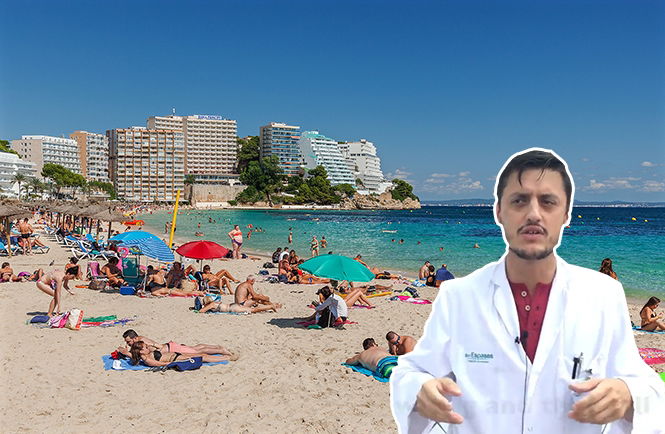 A SPANISH doctor has warned young British holidaymakers to keep dangerous hotel stunts in check.
In a video produced by the UK's Foreign Office, surgeon Juan Jose Segura Sampedro from Son Espases Hospital in Palma de Mallorca urges revellers to stop jumping between balconies.
It comes after research revealed that more Britons are hurt or killed trying to pull off the risky move than any other nationality.
The medic blames British drinking culture after his survey into 'balconing' – where people leap or climb from one terrace to another – found that 61 per cent of those injured were British, while the average age of victims was 24, with 97 per cent men.
In the footage, he says: "The typical story is a guy, probably 19, 20 years old that has come here [Mallorca] with some friends and they are having fun, they are drinking maybe a bit more than usual and they get into a fight or they take risky behaviours (sic) like climbing from one balcony to another or jumping into a pool.
"Normally, the most frequent accident is going to be a spine injury, and even more severe a head or neck trauma.
"The problem here is not to ruin a holiday, the problem here is you are going to ruin your life."
And in an earlier conference on the subject the doctor revealed that "in 98 per cent of cases the victim had drunk large amounts of alcohol, and in one in four they also tested positive for cannabis or other drugs."
Two young Britons have already died after plunging from balconies in Mallorca this year.
Natalie Cormack, 19, from North Ayshire in Scotland, was last month killed after plummeting from the sixth floor of a Magaluf building.
She was trying to cross to her flat from a neighbour's terrace after leaving her keys at the bar she worked at.
In March Sheffield Hallam University student James Walton, 23, from Ealing in London, died when he fell four floors to the street in Palma after a St. Patrick's Day party with friends.