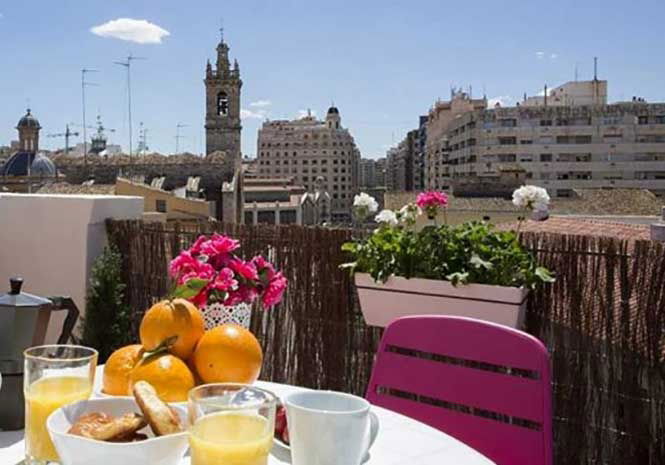 THE Valencian government has announced plans to only allow holiday rentals in ground floor and first floor properties, so your city break penthouse with stunning panoramic views of the city could become a thing of the past.
Following the news last week that Palma in Mallorca is to ban all holiday rental apartments in the city and Venice has created locals-only zones with theme-park style turnstiles, Valencia is the next Spanish city to impose restrictions on holiday lets.
Proposed new regulations will forbid all properties being rented out to tourists that are not on the ground floor or first floor of any apartment building.
In a move that appears to appease the growing anti-tourism unrest among residents in tourist destinations such as Venice, Barcelona, Palma and now Valencia, the proposed plan aims to promote harmony and reduce the impact on the day to day lives of residents in apartment blocks.
The city of Valencia is the third most visited city in Spain. It is an appealing holiday destination for both city breaks as well as beach holidays due to it seaside location offering amazing stretches of sandy beaches, the stunning harbour which hosted the America's Cup in 2009 and its cultural attractions such as the Science and Arts City which celebrates its 20th anniversary this year.
With more than 60 number of flights weekly to Valencia airport from London, the number of international visitors to the city has grown to a record-breaking 3.3 million last year.
There are currently an estimated 5,000 holiday rental apartments on offer in the city although many of those are being rented out illegally without a holiday rental licence.  The city is also looking to bring in stricter measures and fines to holiday rental home owners and holiday rental platforms who continue to rent without a licence. Spain-Holiday.com is one holiday rental company offering 100% fully licenced properties in the city.
At present, the proposed law will only affect properties that have not yet applied for their holiday rental licence but there is talk of applying the new regulation to existing licenced properties as well.
The option to stay in centrally-located apartments such as this stylish penthouse in the historic centre of Valencia offering an incredible panoramic roof-top view of the city with the cathedral prominent in the skyline may become a thing of the past. Available on Spain-Holiday.com, the popular one-bedroom penthouse accommodates three guests and costs from £47.53 per night.
Jannich Petersen, CEO of Spain-Holiday.com estimates that the proposed law could have a significant impact on the holiday rental industry in Valencia.
"This new proposed plan could impact up to 70% of rental properties in the city and does not support the growing global trend of city break holidays"
Holidaymakers that have already booked accommodation in Valencia should not be worried about their holiday which will not be impacted by the proposed law.