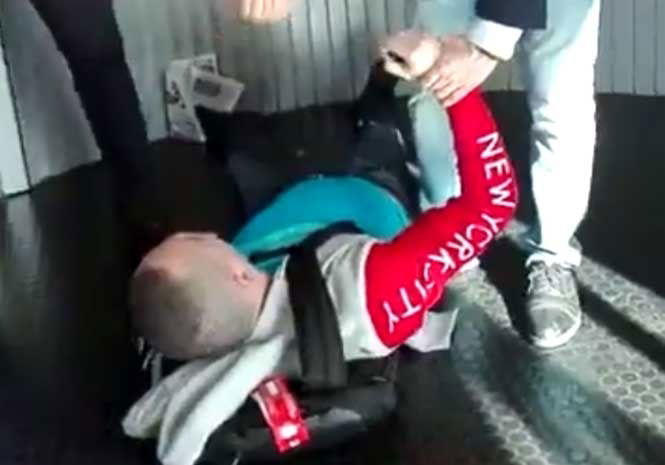 THIS is the embarrassing moment a plastered passenger had to be helped off a Mallorca flight because he was too drunk to stand by himself.
In the footage, tweeted by PMR, a firm helping travellers with reduced mobility at Palma airport, a woman can be heard asking: "But what is wrong with this guy?"
A male colleague answers "he is drunk" as the giggling man slumps to the ground while holding onto a pal's hand before staggering to his feet.
The ground staff then force the pair to wait as they call security, with one indicating with his hands as he adds that "he drank 'this' bottle, I saw the bottle," before the man's legs buckle under him again as he tries to remain upright.
It remains unclear from where the two men had arrived from.
PMR complained about being left to deal with drunk passengers in the caption sort it out, disguising the issue as a 'medical emergency.'
"The staff are fed up with taking these risks."
Union official Jairo Fernandez reportedly told a local TV channel: "I've seen people arrive in such a state that if you'd told me they were dead I'd believe you.
"People who couldn't stand up and had wet themselves and could have consumed anything and everything.
"All the airlines are interested in is getting them off the plane as quickly as possible so they can get it cleaned and refuelled and turned round as quickly
as possible.
"It's not our job to be doing this sort of thing. There are doctors, security people, police and Guardia Civil, staff from AENA and the airline firms.
"Airlines should be dealing with these sorts of problems when they've had people in this state on their planes."
Cuando un pasajero llega en este estado, las compañías llaman a PMR para que nos hagamos cargo, enmascarando el servicio como "emergencia medica", todo esto con el visto bueno o mirada hacia otro lado d @aena .
L@s trabajador@s estamos hartos d asumir este riesgo.#DefiendePMR pic.twitter.com/0KRM8ny03h

— Pmr pmi (@pmrpalma) May 4, 2018