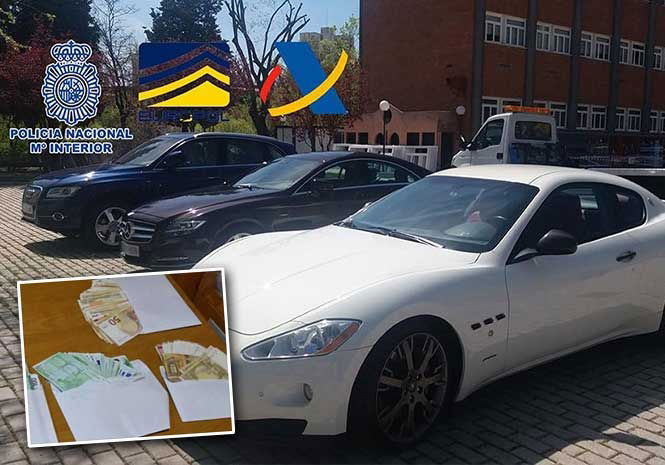 MORE than 50 people have been arrested and 52 luxury cars seized in raids that were led by Spain's National Police force and the Tax Agency.
€400,000 in cash, IT equipment and one weapon were also recovered in the raids across Europe.
Supported by Europol and Eurojust, 101 premises were searched and 58 suspects were arrested in Belgium, Germany, Portugal and Spain in Operation Dream.
Authorities from Bulgaria, Hungary, Italy and Romania were also involved in the investigations into the fraud which is estimated to have cost the EU economy €60 million. The investigation began in 2015 when Spanish authorities were alerted to a criminal gang which specialised in VAT fraud and money laundering.
The group carried out or simulated imports and purchases of electronic goods, both real and fake, which were sold online.
The criminal organisation was composed mainly of Italian, Portuguese and Spanish nationals and was allegedly managed from Spain by two men; father and son – Spanish nationals of Indian origin – believed to have been operating for more than nine years across Europe.
The group had a network of more than 100 companies  across Belgium, Bulgaria, Cyprus, Germany, Hungary, Italy, Portugal, Romania, Spain and the USA.
The network also owned a production centre to create false invoices to perform VAT fraud on electronic goods and also on the import of luxury vehicles below invoice price.
Investigations revealed that the group issued false invoices for a value of over €250 million in three years and that the money was layered among the large network of shell companies before being funnelled to Bulgarian or Hungarian bank accounts.
In particular, the organisation moved more than €140 million in two years through two Hungarian shell companies. The group then used different methods to integrate its profits, such as investments in real estate and real businesses, or the purchase and sale of luxury vehicles.The final destinations of the proceeds of crime were Italy, Spain and the USA. Europol organised two operational meetings in Madrid and The Hague and attended one coordination meeting at Eurojust .
On the day of the action they also provided on-the-spot support by deploying an analyst and a specialist to Spain, equipped with a mobile office and Universal Forensic Extraction Device. This allowed real-time information exchange and cross-checks of the data gathered during the course of the actions against Europol databases. Following the operation, Jari Liukku, Head of Europol's European Serious and Organised Crime Centre, said "Staggering sums of money are being taken directly from the citizens of the European Union by organised crime groups, depriving us all of essential services and infrastructure such as security, health, education or justice that should be funded by the proper collection of this revenue.
"By its very nature this is an international cross-border offence that requires a coordinated approach between Member States' police services, customs administrations and tax authorities.
"The impressive results of Operation Dreams show us once more what can be achieved when law enforcement agencies work together with the support of Europol and Eurojust. Nevertheless, despite the various efforts made, the threat of MTIC fraud remains significant".