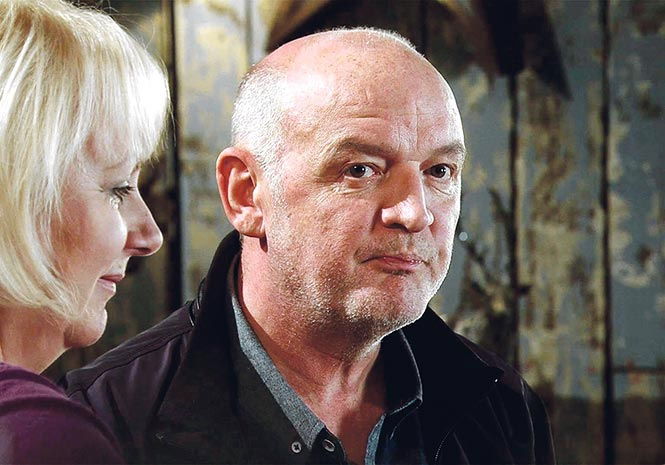 IF ratings are anything to go by, Coronation Street (ITV) is going from strength to strength with over nine million of us currently tuning in to watch Phelan and Eileen doing what they do. 
As far as I am concerned the impossible-to-bump-off Phelan is only one reason to venture over the cobbles. Recent storylines have been grippingly hard hitting, with David's rape and Bethany being groomed to name just two. The show has a new star in Kayla Westbrook (played by Mollie Winnard) who has started work as a waiter at Speed Daal and who delivers 'the shock of the Soaps' when Zeedan tells Kayla that he thinks his all too distant wife might still have feelings for him. #weallsawthatcoming. Kayla is apparently going to cause trouble for Craig and Bethany. I can't wait.
Channel 5 checked us in to British Airways on Tuesday evening with a look back at the last 100 years of passenger flying. Don't write in, but I think the forerunners of BA first took to the air in 1919. Guess looking back at the last 99 years doesn't have the same ring as a centenary though; this was a factual look back at the early days of passenger air travel when passengers were a much more hardy breed than the social media obsessed travellers of today who tweet about their world falling apart if their flight is delayed by a few minutes or if there isn't a chicken or fish choice on the inflight menu. Back then there weren't any onboard toilets. Tweet that. Concorde fans will want to catch the final part of this two-part documentary on Tuesday on Channel 5. 
Graham Norton continues to attract big name stars to his BBC1 Friday night show. Last week Orlando Bloom was granted an audience with Graham to shamelessly plug his West End play, comedian Stephen Merchant blatantly plugged his voice over of the new Sherlock Gnomes animation and SuRie plugged (sang) the UK entry in the Eurovision Song Contest. 
Publicising yourself on prime-time TV, nice work if you can get it. This week Graham plays host (by which I mean provides a self-serving publicity platform) to funny man Stephen Mangan, who is plugging his new black comedy Hang Ups and Hollywood star Amy Schumer who talks endlessly about her new movie. At least there is only a small risk of anything Eurovision this week. 
Tricks of the Restaurant Trade returned to Channel 4 on Monday. I'm new to this show so pictured dirty kitchens, small portions and low quality ingredients. You can imagine my delight when Simon Rimmer met the squeaky clean researchers from a well-known coffee chain and Adam Pearson waded around non-descript High Streets with lovely, clean, bottled water. Although I'm pleased there were no dirty kitchens, I'm not sure I'm hooked. I guess my question about the show is – why? We all know chain coffee shops are a corporate machine and bottled water is just, well, 'agua en una botella' and probably doesn't merit a key slot in the schedule, even on a Monday, on Channel 4. 
In shock Britain's Got Talent news, David Walliams has a different chair to the other judges because of a back injury, thank goodness for the clarification ITV.  Happy Viewing.