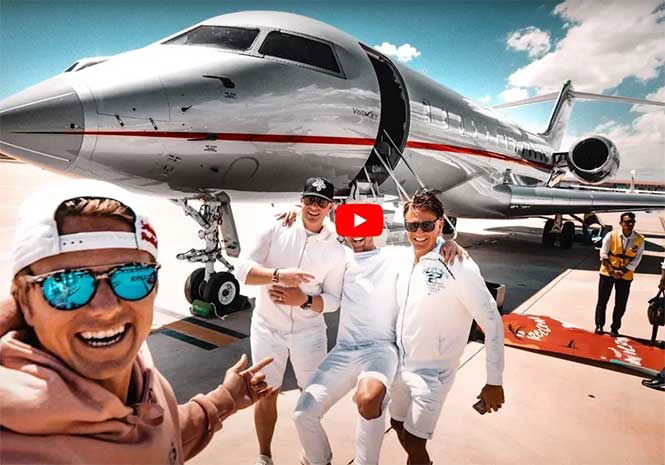 SKIER, video blogger and car-enthusiast Jon Olsson lives his life to the extreme and his extravagant stag do in Spain proved to be no different.
The 35-year-old Swede splits his time between properties in Monaco and the Costa del Sol with his girlfriend Janni Deler.
And his blingy bachelor party, paid for by his billionaire father-in-law to be Rickard Deler, saw the day start off with him being  'kidnapped' from his mansion in Marbella.
Olsson's day began with a lap dance in a helicopter hangar before whisked off by chopper to the private Ascari race track, near Ronda, where he was treated to a few laps around the track racing supercars.
"This is probably my favourite place in Spain. They have a lot of toys and a lot of fun things," said Olsson.
Then it was back in the helicopter for the second activity of the day – polo – before heading to another airstrip to board a £44million private jet heading for Barcelona.
Jon and his pals stayed in a W Hotel suite, which costs up to £9,600 a night and partied at the trendy Shoko nightclub where VIP tables will set you back £880 and they ordered Dom Perignon champagne.
On May 1 a 25-minute video of the day's celebrations entitled 'MY CRAZY BACHELOR PARTY! (Including a $60 000 000 PRIVATE JET!!!)' was uploaded to his YouTube channel, which has more than 1million subscribers,  and it has already received more than 400,000 views and 30,000 likes.