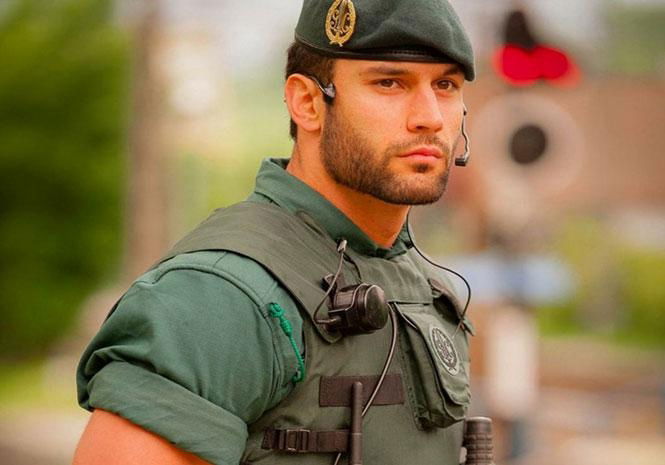 FINALLY, after two weeks of waiting, the Spanish Guardia Civil police officer who created a sensation on the force's Twitter account has been identified.
Some people had cast doubt on whether the hunk featured in the tweet was even a serving officer.
And the answer is most definitely a 'yes'!
The  @guardiacivil Twitter account, with more than 1.23million  followers, normally keeps the public informed of crime and security subjects. 
But the tweet that set their account alight featured a rugged cop with the message, "Although from the outside you see us dressed in uniform inside we are not different from you. We work for your freedom and safety. If you need us, call? 062. "
The post has attracted more than 1,500 comments, mainly from women, 12,164 likes and has been retweeted more than 3,220 times.
A now the Euro Weekly News can reveal that the serving officer is, in fact, Jorge Perez Diez who is married and has three children.He was born in Reinosa, in the northern Spanish region of Cantabria in 1983.
Jorge joined the Guardia Civil in 2005.
He used to work on counter-terrorism and narcotics operations in the Basque Country and Cataluña, but now patrols Aguilar de Campoo, a town with a population of 7,000.
He explained the photo was taken by the Guardia Civil's communications department more than three years ago in San Sebastian when he was part of the Rapid Response Group.
Jorge said that he never imagined it would cause such a fuss.
"I'm flattered by all the affection and goodwill from people, and also the compliments, of course, and I'm taking it all with a good sense of humour."
Aunque por fuera nos veas vestidos de uniforme por dentro no somos diferentes a ti

Trabajamos por tu libertad y seguridad

Si nos necesitas llama? 062 pic.twitter.com/SxkA9JgG3m

— Guardia Civil (@guardiacivil) April 15, 2018