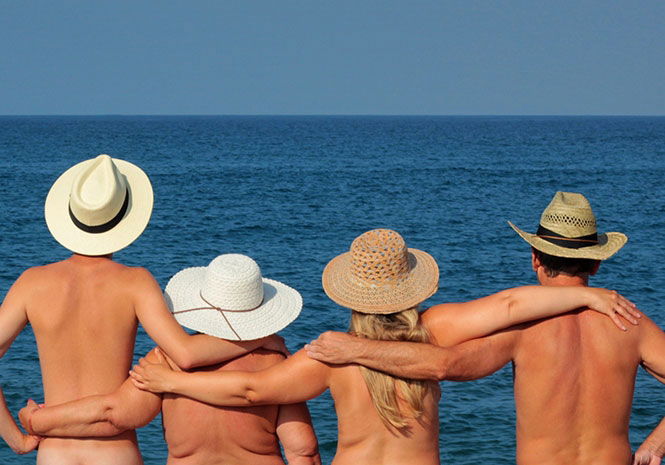 YOU'LL need to slap the sunscreen on carefully all-over if you book a holiday in Spain through a new website.
Naturists can now book clothing-optional accommodation in sunny destinations including Spain's Costa hotspots through Naturist BnB.
The site has been created by Petri and Minna Karjalainen who like to holiday in the nude themselves.
They describe themselves as 'a couple in our late 40's who learnt to enjoy a naturist lifestyle years ago.'
"Recently we started also as a nudist Airbnb host but we realised that the community does not really encourage nudist lifestyle. That inspired us to create a site dedicated to clothing optional holidays with ease and conveniency of Airbnb. 
The site has been running for two months and there are already properties on offer in Spain, France, the Netherlands, Canada, the United States, England and Wales.
As well as the holiday property listings the site offers advice about naturist etiquette.
They warn, "When you go to any clothing optional or nudist location, whether it is a beach, resort or private home there is a common etiquette which you need to understand and obey. Breaching the etiquette and refusing to correct your behaviour if requested, may lead to cancel your booking during your stay and no refund will be given."
Nude areas
Often only some areas of the property are reserved for practising nudism. Other areas or facilites may require full clothing. Check this with your host on arrival.
Towels
Carry a towel with you everywhere you go. This is to be used under you wherever you decide to park yourself, sitting or lying. Always use a towel under you!
Shower
If you are going into a sauna, pool or jacuzzi used also by other guests or hosts — shower properly before going in. It is mostly because it helps to keep the water cleaner longer, use less chemicals in it – and just makes others feel more comfortable to use the same amenities after or with you.
Cameras
Typically the use of a camera among nude people is not allowed. Some people just might not want to end in your photo album bare naked. Anyway, if you feel to capture the moment is a must, you must ask each and everyone in the shot to give their permission.
Eye contact
It is considered very rude to talk to other people bodies in the textile world. In naturist community it is considered even more rude. Keep eye contact while having conversation with you naked counterparts.
No staring at people
A nudist environment should be a safe, non-sexual space. The whole point of going nude in a safe environment is being comfortable in your natural skin. So please, don't stare or you will be considered a perv.
Clothes
Many Naturist BnB places are "clothing optional". It means you can wear some clothing if you prefer. On the other hand some may practice strict "nude only" rule. In both cases clothes are allowed when it's cold or to protect your body. 
No sexual behaviour
Don't show any sexual activity in a public. Naturally you can hold hands and kiss if you feel to. Use your common sense. Passionate kissing and touching in public may get others feels uncomfortable.