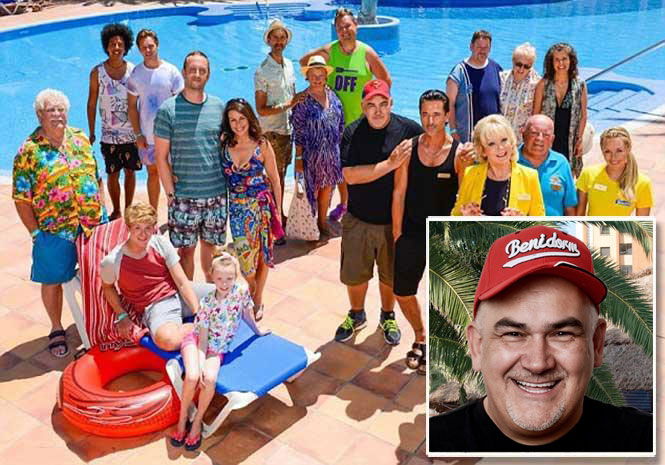 BENIDORM, the long-running, award-winning ITV sitcom will air its final episode this week after TV bosses decided to axe it after a ten series run.
Produced by Tiger Aspect the series features an ensemble cast of holidaymakers and staff at the Solana all-inclusive hotel in Benidorm on Spain's Costa Blanca.
Last night (Sunday) show creator Derren Litten told his Twitter followers, "Crazy to think Wednesday will be the last episode of Benidorm!
"I created the series over 11 years ago, wrote it, guest starred in it and ended up directing it. It's difficult to think what else there is to do! Thank you for watching!"
It comes only weeks after Litten tweeted, "Apparently The Sun are running a story tomorrow on how Benidorm has been cancelled. Don't make me f**king laugh! (I enjoyed that story after series 6. And 7 and 8 and 9…)"
The Sun newspaper had claimed that Benidorm's run was nearing its end and would be axed by ITV because of dwindling audience numbers.
The same newspaper also claimed that Litten had already left the show and had signed a contract with the BBC to write a new sitcom, supposedly set in Scarborough, for them.
They suggested the new series will centre around a similar group of characters to those in Benidorm, and be set in a karaoke bar in the seaside town.
A TV source, quoted by the newspaper, said, "Benidorm has been a huge success for ITV for a decade, but bosses feel it's run its course.
"The ratings have started to drop off and a number of the fan favourites have left, so it just feels as though the time is right to let it go out while it's still on a high."
Just over 4.3 million fans tuned in for the first show of series ten — a 400,000 drop on the previous year.
Crazy to think Wednesday will be the last episode of Benidorm! I created the series over 11 years ago, wrote it, guest starred in it and ended up directing it. It's difficult to think what else there is to do! Thank you for watching! #MuchasGracias ? pic.twitter.com/WQmdaIG4i4

— Derren Litten (@DerrenLitten) April 29, 2018
This series has been a massive success.huge figures, brilliant writing,directing,and performances. Also credit to the wardrobe and makeup team and crew.Thanks so much @DerrenLitten I feel honoured to have been in this brilliant show and directed by you Thankyou xxxx

— Claire Sweeney (@clairesweeney) April 30, 2018
So gutted this is the last… such a fab series … so funny!

— Angelina Shaw (@angeshaw157) April 30, 2018
@DerrenLitten Sad to hear the news of Benidorm. All I can say is a HUGE thanks for 11 years of laughter. I'm going to miss it. Will just have to wait to see the Stage show in Southampton!

— Simon O'Farrell (@OFarrellSimon) April 30, 2018
Obviously we need Garvey spin off….. I say need… it's a necessity! Sharpen your pencil chap before the UK has nothing to laugh at…

— ??Mostly Grumpy (@suzanne_delarue) April 29, 2018