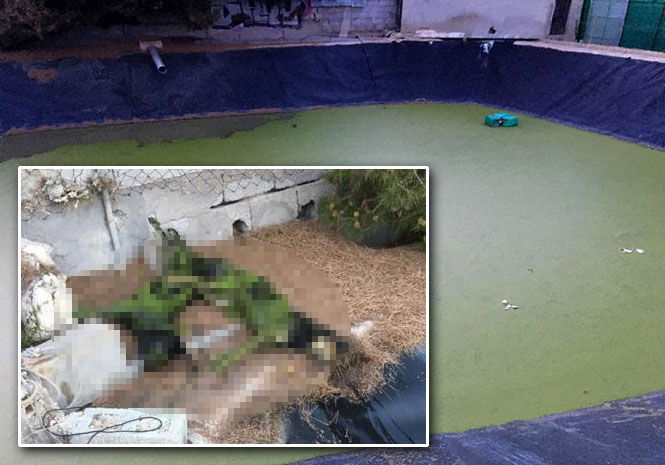 THE mutilated remains of four dogs that went missing at Easter have been found by their owners in a smelly, stagnant water reservoir on the Costa Blanca in Spain.
Horrified pet owners have recovered the remains of three of their dogs but the fourth was too seriously decomposed.
Authorities have ordered the owners of the greenhouse nursery business to drain the reservoir amid concerns that more animal remains might be found.
A specialist company has started to empty the holding pond that serves the business in Mutxamel in the Alicante province.
Although the work has not yet been finished it is believed the remains of other dead animals including cats and dogs have been found. 
The Guardia Civil is investigating the horrific discovery and have taken statements from greenhouse workers but say there is no conclusive evidence that points to the culprits.
The police have now taken to social media to issue a public appeal for information.
WARNING: Some of the images they have tweeted (below) are graphic and may upset some readers
But the lawyer of the dog owners was angry. Graciela Miralles, claims that during the emptying of the pond no agent of the  Guardia Civil's Seprona section was present.
"This does not happen when it comes to the murder of a person. A tank has been emptied in which the bodies of mutilated animals are supposedly found and the Civil Guard is not present to verify it."
The Animal Dignity association is also assisting the dog owners to find the culprit.
Saturnina Martínez, president of the association said, "This is a horror.
"We have to wait and see what justice says but we constantly ask for the toughening of sentences."
Antoni Ripol of Felinos Lo Morant added, "Here we have psychopaths."
Lawyer Gabriela Miralles said that if the Guardia Civil finds the culprits, they would face a maximum penalty of two years in prison and that if they do not have a criminal record the sentence would be suspended.
"This is the problem we have with the laws of animal abuse."
¿Conoces al??☠que torturó, mutiló y lanzó a una balsa a cuatro perros en Mutxamel #Alicante?#NoCalles
?062
[email protected]https://t.co/RfnY5LvHEa pic.twitter.com/A4rEApItmN

— Guardia Civil (@guardiacivil) April 26, 2018