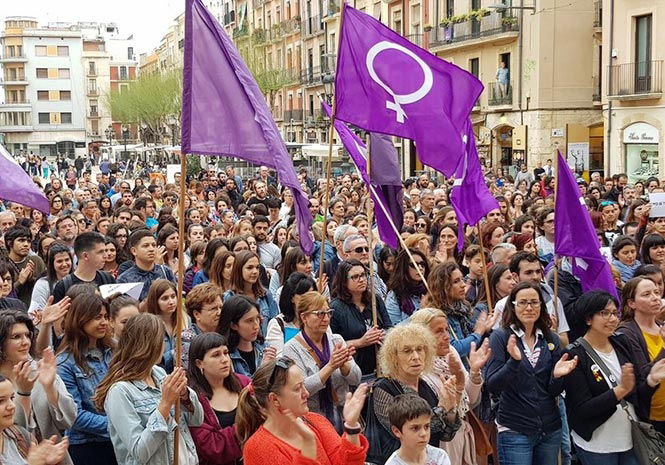 DEMONSTRATORS took to the streets in cities across Spain after a court in Navarra acquitted five defendants of raping an 18-year-old woman during the San Fermin festival.
Leading politicians, including Spain's Deputy Prime Minister and Justice Minister, have also spoken out about the sentence issued yesterday at Narrava's provincial court.
The defendants, all in their late 20's, were acquitted of rape but found guilty of sexually assaulting the woman in Pamplona during the Running of the Bulls festival.
They were each handed sentences of nine years in prison, ordered to pay €50,000 in compensation to the victim and they are now prevented from contacting her for 15 years.
The victim's family said the court's penalty, for sexual assault rather than rape because no force was found to have been used, was "insufficient".
The men were given the right to appeal against the ruling. Both the prosecution and the defence have said they would lodge appeals with the court.
Thousands of protestors reportedly gathered in Pamplona, as well as in Barcelona, Bilbao, Madrid, Malaga, Sevilla, Valencia and Zaragoza in response to the sentence.
"It's not abuse, it's rape!" they chanted as they carried banners decrying the ruling. Many of the demonstrators have rallied around the slogan: "I do believe you".
Others bore signs which said: "Enough of the patriarchal justice system" and "Spain is not a country for women".
Más de 7.000 personas gritando en Málaga ¡Tranquila hermana, aquí está tu manada! ?♀✊?#EstaEsNuestraManada #YoSiTeCreo #JusticiaPatriarcal #LaManadaSomosNosotras pic.twitter.com/EgzEBgSZzs

— Sindicato de Estudiantes Málaga (@SEMalaga) April 26, 2018
Protestors in Navarra demonstrated outside the courthouse where the sentencing took place. Police reportedly stopped them from advancing towards the entrance.
A Madrid branch of the March 8 Commission, a feminist group which organised the women's general strike on March 8, tweeted: "Madrid overflowed again against patriarchal justice and the impunity of aggressors."
Desbordamos Madrid, otra vez, contra la #JusticiaPatriarcal y la impunidad de los agresores. pic.twitter.com/DijN5M4zyF

— Comisión 8 de Marzo Madrid (@FeminismosMad) April 26, 2018
Spain's National Police tweeted: "No is No. We are always with you."
#NoesNo#NoalaViolencia#NoalaAgresión#NoalAcoso#NoalosAbusos

ESTAMOS SIEMPRE
CONTIGO
?091

— Policía Nacional (@policia) April 26, 2018
The left-leaning Partido Socialista (PSOE) tweeted: "The prosecution requested justice. This failure leaves women in a state of absolute vulnerability."
No es abuso, es violación. Justicia era lo que pedía el ministerio fiscal. El fallo que hemos conocido hoy deja a las mujeres en una situación de absoluta vulnerabilidad. Hubo un NO de la víctima. #YoSíTeCreo pic.twitter.com/XK5zPyVcgI

— PSOE (@PSOE) April 26, 2018
Soraya Saenz de Santamaria, Spain's Deputy Prime Minister, said the government respected the ruling but that it must respond to the public outcry.
"I think we have to analyze what we as public authorities must do so that incidents like this don't happen again in our country," she said.
Rafael Catala, the government in Madrid's Justice Minister, said sex assault laws dating from 1995 could be reviewed if it were "convenient" to push for revision.