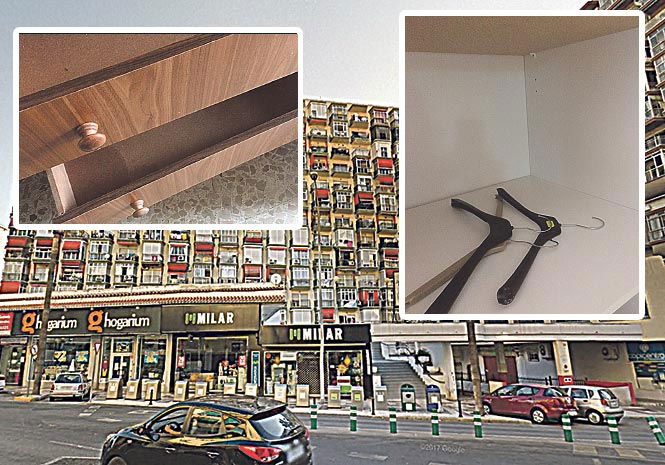 AN expatriate couple whose home was occupied by squatters has been left 'with nothing' after the occupiers fled with their belongings.
"We have not even got a change of clothes, they even took our underwear," said Anita Pillay, 69, who has lived in Torremolinos with husband Tony for 15 years.
The pair flew to London for a three-week break to visit her elderly mother, but when they returned they found the locks on their front door had been changed and a group of 'at least five' Romanian people had moved in.
The South African-born ex-teacher was speaking exclusively to the Euro Weekly News during a visit to her apartment on Avenida de los Manantiales.
"On Friday the lawyer called, telling me that the judge had issued a court order and the squatters would have to leave by Sunday.
"But when we went there early on Sunday morning they were still inside, so I called the lawyer and he said we should take the documents to the police station.
"The police said we must go back to the court and get a letter, or get an official to call them, before they could do anything.
"I eventually got an officer to talk to the lawyer – they didn't even read the resolution – and they agreed to come with us at 11am on Monday."
Now speaking through tears, she continued: "But when we got inside we were horrified to see they had run off with literally everything they could lay their hands on.
"I mean, what kind of person takes bars of soap and half-empty cleaning products?"
"I'm so terrified I'll never be able to see my mum and dad again.
"We've lost so much money, and the lawyer has already said we won't get anything back."
The Age Care Costa del Sol charity contacted the Euro Weekly News in the wake of last week's front page exclusive story, and several readers have also been in touch with offers of aid.
If you want to help Anita and Tony, please email helpanita@euroweeklynews.com in advance of a direct payment option becoming available.