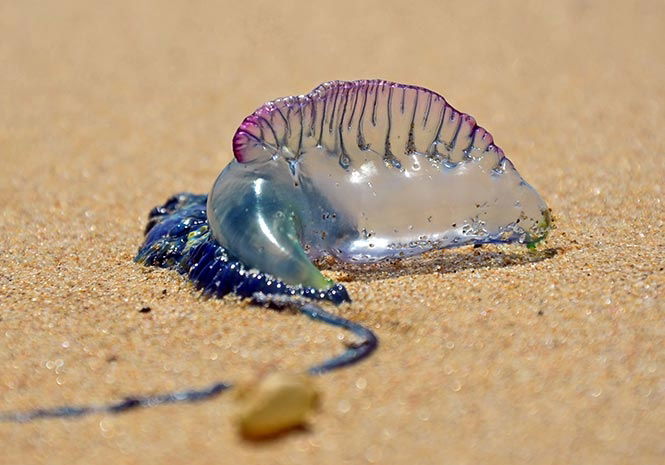 SIGHTINGS of the ´extremely painful´ Portuguese man o´war stingers have led to beach closures along the Costa Blanca.
Beaches in Altea near Benidorm have raised the red flag "until next weekend", authorities said. This followed a higher than usual number of sightings of the toxic blue blobs along the Alicante coastline.
Municipal authorities closed San Juan beach in the Alicante capital for the same reason last weekend.
Their sting leaves red whip-like rashes and severe pain for anything up to three hours. However, it is rare for the venomous creatures to kill.
Altea´s environment minister, Bea Nomdedeu, said it was strong winds as well as the floating stingers which raised the red-flag.
The red-flag was a "cautious" measure and it will probably be lifted by the weekend if nothing is spotted before, she added.
An Institute of Coastal Ecology researcher, Juan Gillen, said that the Portuguese men o´war are "highly toxic".
Normally there are around eight annual sightings but this year there have been forty. This has caused "a bit of psychosis", Gillen said.
The institute is awaiting a report to explain this year´s stinger surge. However, Gillen said numbers of the unwanted visitors do "tend to drop off".
There are around 10,000 annual sightings of the carnivorous creature – also known as the floating terror – in Australia. It devours small fish by reeling them directly into digestive system.
The sea-creatures are native to the major oceans, but scientists think currents and strong winds have dragged them into the Mediterranean Sea.
Technically, the creature is not a jellyfish because it is made up of several organisms joined as one.