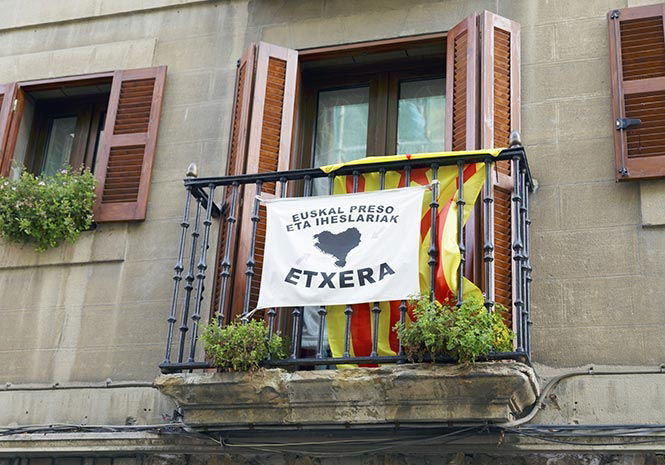 THE Basque nationalist terror group ETA has handed in several cases of weapons and ammunition to police in southern France, according to a legal official from the area.
Samuel Vuelta Simon, a prosecutor based in Bayonne, said authorities had been contacted by email to tell them a cache of arms had been left at a location there. Bayonne lies in the French Basque country.
Sources close to police reported in the media said they recovered four cases containing 20 handguns, several hundred rounds of ammunition and a detonator cable. The haul was found in open air in the city centre, the source added.
The source said 200 fake registration places and materials which could be used to steal cars were also discovered by authorities.
The news comes as the ETA prepares to dissolve itself in the first weeks of May at an event in southern France.
The move follows months of internal debates among the group's leadership and members over winding up its operations and several declarations on ending activities.
It also comes as the ETA asked for forgiveness over the deaths of civilians and others not directly involved in their struggle for Basque independence during their operations.
"We want to show respect for the dead, those injured and the victims of ETA actions. We truly apologise," the group said.
The apology drew criticism from Spanish politicians and terrorism victim associations. One such group, the Victims of Terrorism Association (AVT) said the apology was an attempt to "whitewash" the ETA's past.
The ETA, or Euskadi Ta Askatasuna (Basque Homeland and Liberty), was established in 1959 in the Basque region of northern Spain and southern France.
It morphed from a group promoting Basque culture, language and traditions into a paramilitary organisation dedicated to achieving independence for the region by violent means.
Several countries have listed the group as a terrorist organisation and more than 820 people, including 340 civilians, were killed during its attacks. More than 300 of its members are in prison in Spain, France and elsewhere.