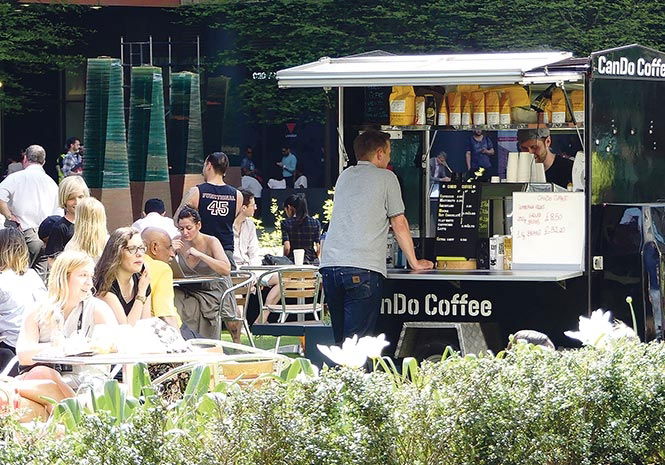 THOSE glorious words from the pen of Robert Browning have, to me, never been more evident than in the last few days of yet another quick sojourn to the old country.  
Personally, for me the piece should actually be slightly amended, and the word England replaced by 'London.' 
A few days ago, I had received word that the hospital wanted me back in the UK to run a couple of extra tests. Due to pressure of work, it had to be a really quick visit, so last week found me once again 'Ubering' around the streets of the great metropolis. 
And what a difference. My last visit dumped me in the middle of the coldest spell for years, with people shuffling around like iced-up Eskimos from the far reaches of the Arctic. Not this time however. In true British fashion and in the blink of an eye, the 'Beast from the East' has been replaced by the shimmering sunshine of the south. And what a difference. London has been completely transformed.  
The streets and avenues have literally burst into life, with a wonderful abundance of blossoming cherries and magnolias.  
The embankment of the Thames was quite magnificent, with sunlight bouncing off the water and the terraces of the moored-up pubs packed with, somewhat relieved, lightly clad Londoners, celebrating the fact that spring truly does appear to have arrived at last. 
So, once again I find myself hurtling through the air in a tin tube, at some 500 miles an hour, scribbling this missive and hoping that the first time it is perused, is not when it gets washed up on some foreign shore or another. If you get my drift! Drift, geddit? Ah well.
All in all, it's been quite an eventful week. The anniversary of Enoch Powell's 'Rivers of Blood' speech raised all the usual, predictable reactions.  
What did interest me however was the high number of those, including some politicians, who felt that were he still alive today, he would have no trouble being elected – to possibly the highest political position in the land! So things still appear to have a long way to go. 
I did feel sorry for those Barbadians caught up in the Windrush fiasco however. I remember in my Bayswater days, this happy race of people arriving in their droves. Bringing with them their colourful attire and rhythms, into what was a somewhat drab UK of the late 50's. 
They also managed at that time, in the light of some quite severe racist attitudes, to ultimately integrate and become true British members of society. Let's hope it's all sorted sooner rather than later.
Also delighted to see the North Korean threat all but settled. This of course has very little to do with the sanctions imposed. It is to me an obvious result of China, and probably Russia, ordering Kim Jong-un to cool it. 
The way it was going between him and Trump, it truly was beginning to look as though it could indeed lead to some form of nuclear confrontation. Neither China nor Russia wanted that. But isn't it somewhat gratifying, after their arrogant posturing and contempt for past American presidents, that they appear to be extremely wary of Trump and what he could well be capable of?
Keep the Faith.
Love Leapy
Leapy Lee's opinions are his own and are not necessarily representative of those of the publishers, advertisers or sponsors.