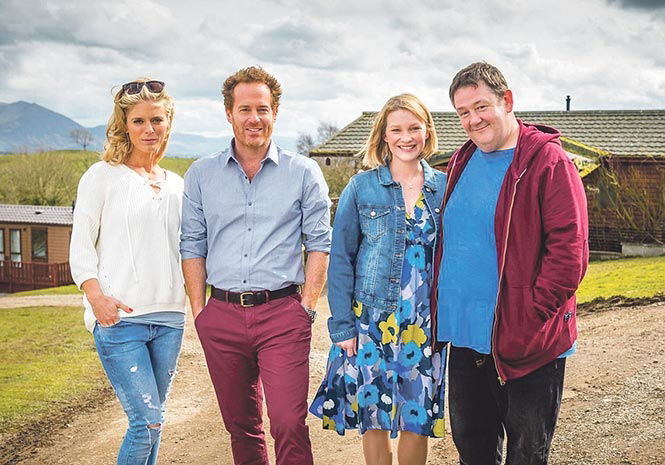 I'M so pleased that Johnny Vegas has found his way back from The Solana to the Lake District for the new BBC show Home from Home, BBC1 Fridays.
I was getting worried that his mum and sister were holidaying without him in Benidorm (they are), but it seems he hasn't got sunstroke and is playing happy families in the north of England. 
This is good news, I was on the verge of an after-sun gel dash up to the Costa Blanca, just to check that the absent Johnny was OK. 
Home from Home started out as a pilot on BBC2, but as only the BBC can and I have no idea why they do, moved to BBC1 when it proved to be a success – maybe the BBC need us all to remind them that we can and do watch BBC2 sometimes and that some of us actually watch commercial TV too, with the shades drawn, lights off and wearing a large sun hat and dark glasses indoors, but we do watch. Back to the Lakes. 
Johnny plays Neil Hackett and Niky Wardley his wife Fiona. No disrespect to anyone, but Neil and Fiona, that's more BBC1 than BBC2, right? 
Fresh from Silent Witness and Doctor Foster, Emilia Fox and Adam James (Adam is a solid BBC1 name too isn't it) play the Dillons, Lakes' neighbours to the Hacketts. The basic story is that the Hacketts have eventually achieved a lifelong dream to buy a traditional lodge in the Lake District, you know the sort of thing, lovely setting, nothing traditional about the actual lodges at all. 
Their lodge is set on the Lake View Holiday Park and they love it, until they meet their neighbours, the Dillons. There is a lovely BBQ scene where Penny (Dillon) is explaining what she misses most about Ibiza – 'shut up and eat your steak' should become a new Johnny catch phrase. Home from Home continues on BBC1, Friday evenings.
A solid BBC2 programme Johnny probably wouldn't want to front is My Year with the Tribe, BBC2 Sundays. The show follows Will Millard (he's a writer and looks really at home with the tribe, maybe too at home come to think of it) as he spends a year with the Korowai tribe in Papua, Indonesia. 
The Korowai are tree house-dwellers and Will sets out to understand the challenges they are tackling as they move into the modern world. There are some pretty spectacular shots of the tree houses and some curl up moments when Will gets to grips with the realities of living with the natives – put your coffee down, bugs cleaning out your ears for example, the programme pulls no punches; but then the Tribe explain that they have a sort of fake tree house for use on Dutch TV and for me it then all started to feel slightly uncomfortable. 
If a massive HD TV and a convection oven come into shot during Sunday's offering, I'm crying foul!
Fans of the Channel 4 show Humans will be pleased that series 3 is due to be screened soon. If you didn't see this first time around and want to catch a couple of Mr Selfridge actors playing with a robot – he did literally play with a robot, series 1 and 2 are available via CH4 box sets. 
Happy Viewing.