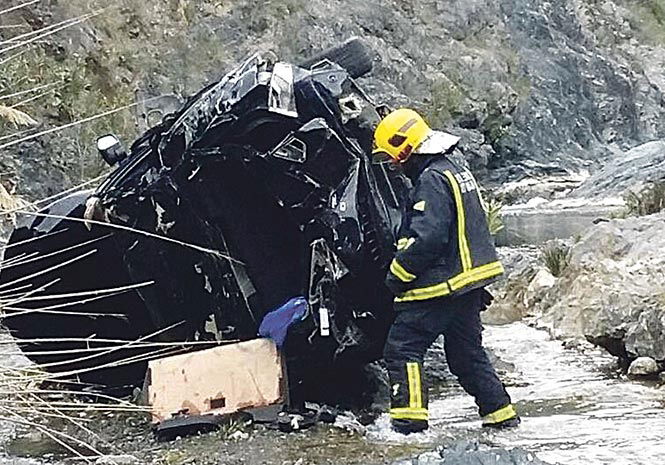 A FRIEND of an expatriate man being hunted by Spanish police claims a Costa del Sol horror accident has been misreported as details of the dramatic incident continue to emerge.
According to Spanish media, the Briton, 35, leapt to safety seconds before the car he was driving plunged 30 metres off the A-45 dual carriageway, rolling several times before landing on its side in the Guadalmedina River.
He managed to walk to a hostel in the nearby village of Casabermeja and was driven to Carlos Haya Hospital in Malaga City with minor bruising, but allegedly failed to tell medics that a 35-year-old man from Riogordo, Axarquia, was still inside the vehicle.
The Spaniard was freed five hours later after a passing motorist spotted the wreckage, with rescue workers later describing his condition as 'critical.'
By that time the unnamed driver had already discharged himself, and he has not been seen since.
But a mutual acquaintance, who wishes to remain anonymous, exclusively told the Euro Weekly News that the two men are "the best of friends," and "there's no way that 'he' would have abandoned 'Ricardo'."
The source also claimed there were other inaccuracies in the stories being circulated by other media before adding: "I have talked to him [the fugitive].
"He says he can't remember a thing and just woke up in hospital asking what happened.
"He's a really good guy and is trying to decide what to do.
"I think he's handing himself in."
The investigation remains open as investigators continue to trace the man.