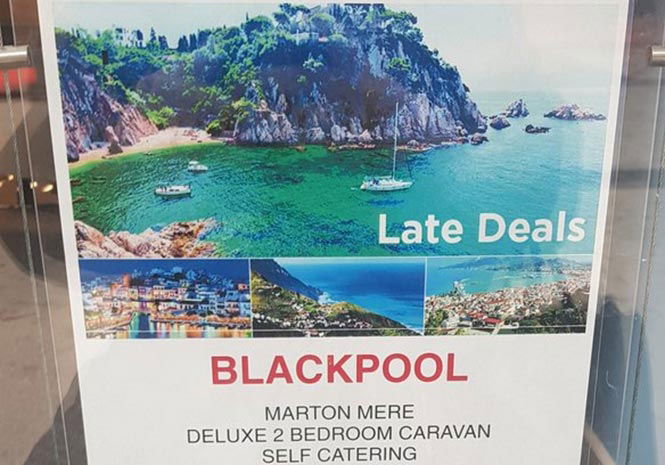 A SCOTTISH travel agent has been ridiculed after using a picture of a Spanish beach to promote a last minute caravan break in Blackpool.
The rib-tickling ad was snapped by Heather Reid from Glasgow, who spotted it in the window of the unnamed firm in Clydebank, West Dunbartonshire.
She later tweeted the photo with the caption: "travel agents in clydebank are at it hahahaha is that pic supposed to be blackpool n am a cheryl cole lookalike anol hen [sic]."
The main image chosen for the advert features a Costa Brava cove with crystal clear waters lapping a golden beach.
And supporting photos include a moonlit resort plus two others thought to be taken in Spain.
But the deal itself describes a break in the Lancashire seaside town as follows: "Blackpool, Marton Mere. Deluxe two bedroom caravan. Self catering. Four nights. June 18 2018. Includes one day access to pleasure beach. £365 total based on a family of four."
One Twitter user remarked: "Looks great wish I could go to Blackpool and work on my tan, would be fishing off that wee boat with a box of beer and my top off."