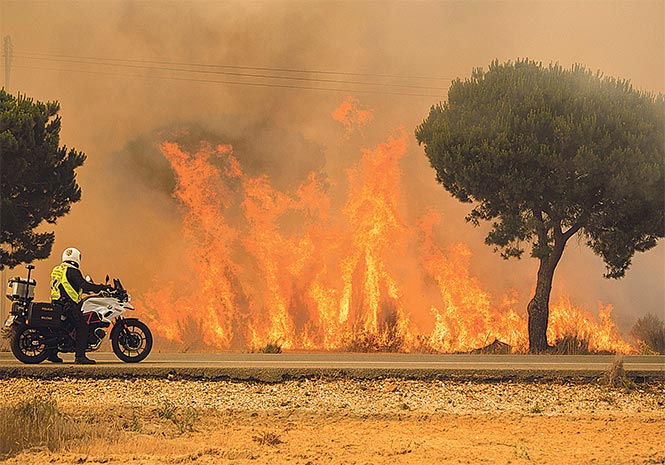 AN Iberian lynx hides silently in the long grass as a young red deer sips from the Guadalquivir River. 
All the while a Spanish Imperial eagle soars graciously in the warm breeze overhead, looking down upon the hundreds of migratory bird species united in the trees that line the riverbank. 
It is a Utopian image that exists in few places on earth. 
However, Spain's paradisiacal snapshot is at risk of being wiped out. 
Doñana national park in Andalucia is on the verge of being declared the EU's first 'endangered' national park. 
Environmental groups have long been calling on the park's management to sort itself out, while the EU has warned the Spanish government time and again about the ongoings at the park.  
For the best part of a decade UNESCO has stated that it is on the brink of removing Spain's largest national park from its list of World Heritage sites after years of neglect and environmental scandals. 
Controversy remains over the Extremadura to Huelva pipeline running through the park, which was installed in 2013.
Constant dredging in the Guadalquivir River to allow ships to pass through has also come under fire. 
While unprecedented levels of illegal strawberry farming is literally sucking the life out of the park. 
In total there is approximately 1,000 illegal boreholes draining the aquifer of one of Europe's most important wetlands.
The lack of moisture was highlighted last summer in the most dramatic fashion when some 8,400 hectares of land in and around the park was razed to the ground by wildfires. 
More alarmingly, some 360 species of birds, 127 of which breed regularly in the park, are being forced to find new homes as the park runs dry.  
Not to mention the endangered population of Iberian lynx, fallow deer, Spanish red deer, wild boars, European badgers and Egyptian mongooses which reside in the park's 50,720 hectares. 
Placing Doñana on the list of World Heritage site 'in danger' is a decision made by UNESCO's World Heritage committee. 
As Juanjo Carmona at WWF Spain says, nobody 'wants to see this happen'.
"It would be the first EU National Park to be given this listing," Carmona explains to me. "We don't want to see this happen. 
"Instead we want the government to get serious about stopping the activities that are threatening the future of Europe's most important wetland.
"The government needs to urgently tackle illegal and unsustainable use of water in the park. 
He adds: "Combined with climate change this could cause irreversible changes to Doñana's wildlife." 
Timeline of outrage and inaction
•1969 – Established as a national park the WWF joined forces with the Spanish government to purchase a section of the Guadalquivir Delta marshes and establish the Doñana national park. 
• 1994 – The Doñana national park was offficially declared an UNESCO World Heritage site.
• 1998 – The Aznalcollar disaster occurred when a holding dam burst at the Los Frailes mine owned by Boliden-Apirsa, releasing a flood of toxic sludge that entered the river Guadiamar, the main water source for the park.
• 2006 – The responsibilities of maintaining the park were transferred to the government of Andalucia by the Royal Decree. 
• 2006 – The park recorded a record 376,287 visitors in the calendar year, following many government-led promotions.
• 2012 – President of Doñana Felipe Gonzalez steps down following an investigation by the National Research Council (CSIC) investigating a Doñana national park scientist for altering – and even inventing – data in his studies.
• 2015 – Junta vowed to protect Doñana from gas extraction while announcing that the Aznalcollar would reopen.
• February 2016 – Supermarkets unite to stop Spain's strawberry fields sucking Doñana wetland dry by refusing to stock strawberry's from the region.
• May 2016 – Spain given ultimatum by European Commission to protect Doñana World Heritage site.
• December 2016 – Environmentalists protest at Doñana national park as water supplies plummet and 'illegal farming' continues. 
• January 2017 – Outrage as gas company awarded millions to operate in Doñana national park. EU considers intervention.
• February 2017 – Andalucia's ombudsman launches investigation into at risk Doñana national park.
• April 2017 – Three hundred illegal wells shut down in Doñana in bid to stop landowners draining wetlands.
• May 2017 – Spain's government forced to deny 'unfairly' slashing funds for Doñana national park.
• June 2017 – Forest fires raze 8,400 hectares of land in and around the park.
In 2016, tens of thousands of people from around the world joined the #OrigamiMigration for Doñana which WWF organised when there was a pressing threat of an 'in danger' listing. 
Since then over 1.5 million people have directly emailed prime ministers and presidents around the world, helping motivate them to reverse multiple, immediate threats to World Heritage sites including Doñana.  
And it is not just the WWF clamping down on Doñana. 
In 2016, Spain was issued an ultimatum by the European Commission to protect Doñana's World Heritage status or risk funding cuts. 
Meanwhile UNESCO has time and again demanded to see improvements.   
In 2011, UNESCO first threatened to place Doñana on the 'endangered' list. 
Just two years later the threat was again placed at Spain's mat.  
And so on and so forth for almost every year for the last decade. 
However, thus far, the Spanish government has been able to satisfy UNESCO that it is doing (just about) enough to turn the bleak landscape around. 
In its most recent report, UNESCO praised the 'state party's commitment not to authorise the dredging project to deepen the Guadalquivir River' and welcomed 'the decision of the State Party not to authorise the gas and storage projects in Marisma Oriental.'
This is despite, the same report stating that it needed to see more evidence of 'enhancing water resource management' as well as confirmation that a research project for Aznalcóllar mine has been authorised.
A subsequent report must be filed to UNESCO by December 1 this year which will be mulled over by the World Heritage committee. 
A spokesperson for UNESCO told Euroweekly News that while 'the state of conservation of Doñana national park has been a source of concern of UNESCO's World Heritage committee for several years and at last year's session it recognised several improvements and this reflected them on its decision.
For now, at least, Spain seems to know how to appease the officials keeping watch on one of the country's most prized possessions. 
And yet, every year the problem worsens as Doñana spirals down a dark well towards the abyss.
Groups such as the WWF are among those demanding that more needs to be done. 
"Unsustainable water use needs to be stopped, habitats need to be restored and there needs to be long term commitments put in place to protect Doñana," Carmona warns. "In recent decades the World Heritage site has been used for short term gains.
What we need to see happen is the focus shift to the park's long term prosperity and preserving Doñana for future generations. 
"The livelihoods and quality of life of the people that live in and around Doñana is dependent on the national park, there's no future for the area if we don't bring Doñana back to life.  
Doñana risks losing the exceptional nature and wildlife that led it to being awarded with World Heritage site status.
It may be possible to artificially maintain small populations of iconic animals, such as the Iberian Lynx or the Imperial Eagle, but important ecosystems such as the 'marisma' wetland will disappear and the richness and diversity of Doñana will be destroyed. 
The abundance of species that are unique to Doñana, such as dragonflies, or the bird species that depend on the wetland, such are the marbled teal, have already suffered a huge decline. 
"People have shown they won't stand for continued loss of precious nature like Doñana." 
Doñana disaster
FOREST fires, illegal farming and controversial pipelines are all current problems facing Doñana. 
However, the biggest environmental disasters to face the park took place some 20 years ago. 
On April 25, 1998, a holding dam burst at the Los Frailes mine releasing almost 5 million cubic metres of mine tailings into the River Agrio and then its tributary the river Guadiamar, travelling about 40 kilometres along these waterways before they could be stopped.
The cleanup operation took three years, at an estimated cost of €240 million. 
But the real damage was on the park's wildlife, not the bank balances of those responsible. 
After the dam exploded almost 2,000 birds, chicks, eggs, and nests were killed or destroyed and more than 25,000 kilos of dead fish were collected in the aftermath.
As a result of the ecological disaster, nothing survived because of the high acidity of the waste, which contained a mixture of lead, copper, zinc, cadmium and other metals, along with sulphides. 
High levels of heavy metals are still embedded in soil and water today.
And yet, despite the tragedy it was announced three years ago that the mine would reopen. 
While the current stance is that it will be for 'research purposes', environmentalists are understably worried about the Spanish government's true intentions for the mine. 
TRAGEDY: Dead ram along the side of the River Agrio.