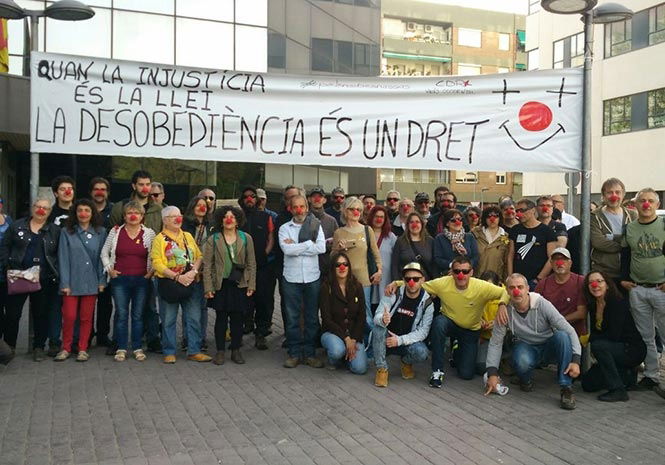 SPAIN'S Attorney General's Office said Cataluña's Mossos d'Esquadra police force is trusted to maintain public order as clown nose wearing pro-independence protestors begin demonstrations today.
The statement issued by authorities added police had their "absolute support" and that they served as an example to others in Spain.
"We trust the actions of the Mossos d'Esquadra will prevent any alteration of public order and guarantee the normal functioning of democratic institutions," authorities said.
The statement comes as the Committee for the Defence of the Republic (CDR), a pro-independence group, are set to demonstrate outside the Prosecutor's headquarters in Vilanova i la Geltrue, Cataluña.
The group called the protests after Jordi Pessarrondona, a councillor in Cataluña, was arrested and charged with public disobedience crimes dating back to last year's referendum.
He had allegedly attempted to stop police officers from entering polling stations when the referendum, ruled illegal by Spanish courts, was held on October 1. He accepted his right not to testify and said the charges had no legal basis.
He previously posed next to a Guardia Civil officer while wearing a clown nose on September 20, the day offices of senior Catalan officials were raided by police.
En una hora en Jordi Pesarrodona anirà al jutjat a declarar. Nosaltres, igual que es farà arreu del territori, anirem a donar-li suport! Recorda: a les 9h a la fiscalia provincial de Tarragona! #pelsnostresnassos #PrimaveraRepublicana pic.twitter.com/HvJN1hEtXV

— CDR Tarragona Eixample (@CDRtgneixample) 23 April 2018
Protestors gathering today have been encouraged to don clown noses in solidarity with Pessarrondona. The CDR has also suggested they try to pose for pictures with them on next to police.
Some demonstrators have already taken to social media to show their support over the last few days:
En suport a Passarodona, ni un pas enrere! #PelsNostresNassos #JoSocCDR pic.twitter.com/Yawu2o5D9W

— Francesc Bermúdez Gómez (@frankitxen) 20 April 2018
Amb la llibertat d'expressió no fem el pallasso! Tot el meu suport a Jordi Pesarrodona! pic.twitter.com/BdgAHZPKN8

— Sara Estalella ? (@Sara_Estalella) 20 April 2018
Tot el meu suport a Jordi Pessarrodona, al que li demanen més de 10 anys de presó per dur un nas de pallasso al costat d'un agent de polícia?‍♀️
La llibertat d'expressió és un dret i l'hem de defensar❗❗#PelsNostresNassos #CDRenxarxa #ElPoderDelPoble pic.twitter.com/3HTaoFtMSo

— jenny Ll F (@jennyLlF1) 18 April 2018