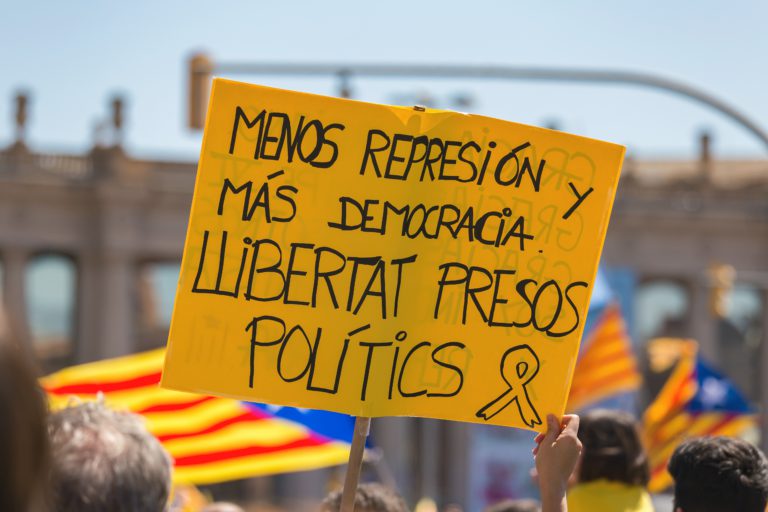 CECILIA YUSTE, Spain's diplomatic representative in Belgium, has spoken out against claims her country is seeking to persecute those who hold pro-Catalan independence views.
The ambassador penned a piece in Belgium's French language Le Soir responding to charges of heavy-handedness on the part of Spain in the ongoing Cataluña situation.
Her opinion piece follows demonstrations in Barcelona calling for freedom for the 16 people currently imprisoned or attempting to avoid arrest in connection with the push for the region's independence.
According to the organization, 750,000 people participated in the demonstration for #rights and #freedom in #Barcelona, #Catalonia today. This can not be ignored.#UsVolemACasa #WeWantYouHome#LlibertatPresosPolítics #FreeCatalanPoliticalPrisoners pic.twitter.com/kl4ZyD5Zbr

— Helle Kettner (@HelleKettner) April 15, 2018
Yuste wrote: "Certain comments insist that political opinions may be subject to judicial persecution in Spain, in particular towards those holding positions in favour of the independence of Cataluña."
The diplomat added there were politicians in institutions across the country who held those views. They were able to "freely" defend their ideas within the bounds of the law, she added.
Yuste said a solution to the political problem of the push for Catalan secession from Spain could not be solved in the courts.
"We are seeing a great social fracture in Cataluña at the moment. A political problem cannot be solved by judicial means and likewise a legal or judicial problem cannot be solved by political means."
"Pretending otherwise can only lead to suspending the principle of the separation of powers. Together with respect for the law, these principles represent one of the foundations of democratic states such as Belgium and Spain," she wrote.
Yuste added court decisions, such as the one which ruled the October referendum on Catalan independence was illegal, should be respected by all.
The ambassador said the three pro-independence parties which had the majority of seats in Cataluña's parliament had "all the legitimacy" to form a government. She added they should select a candidate for President soon.
Yuste's comments follow demonstrations in Barcelona which saw protestors take to the streets last Sunday April 15 to call charges against 16 pro-Catalan independence political figures to be dropped.
Police estimates put attendance at those marches at around 315,000. Organisers said the number was closer to 750,000.
Carles Puigdemont, the region's former President, wrote on Twitter that the protest was a "civic and democratic" demonstration. "We are European citizens who just want to live in peace, free and without fear," he said.
Once again, a great civic and democratic demonstration. #Catalonia is asking for #freedom. We are European citizens who just want to live in peace, free and without fear #UsVolemACasa pic.twitter.com/TbLinSFUSD

— Carles Puigdemont ? (@KRLS) April 15, 2018
Puigdemont is currently on bail in Germany on charges issued by Spain in relation to alleged rebellion and the misuse of public funds in connection with last year's independence push.
He was previously living in Belgium after fleeing Spain following the country's issuing of a warrant for his arrest.
A spokesperson for Puigdemont's Together for Cataluña party said: "The marches were held because there 16 people in prison or in exile for defending political ideas that represent 2,000,000 people."