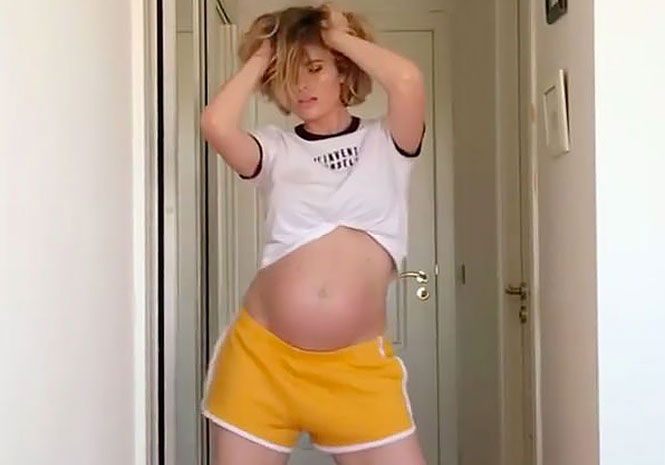 A PREGNANT Spanish model has sparked a social media meltdown after posting a racy twerking video online.
Adriana Abenia, 33, is six months into her pregnancy, and in the 'controversial' clip she bares her baby bump before bopping to reggaeton in a pair of tiny yellow shorts.
The mum-to-be lives in Andalucian capital Sevilla, and she captioned the clip: "I am showing Luna [her unborn baby girl], hidden in the bedroom, to dance reggaeton because I don't have a clue about sevillanas!!!"
A sevillana is a time-honoured folk song and dance especially popular during the annual Sevilla Fair, which is currently taking place.
But Adriana clearly prefers a more modern vibe, as she is seen gyrating her hips and twirling in front of the camera.
The minute-long footage racked up more than 208,000 views in the space of 24 hours, although some of her 200,000 followers were quick to slam the well-known FHM cover model and presenter.
One wrote: "Be careful you're going to make the baby dizzy Adriana."
Others were critical of her taste in music, with one fan adding: "Do you think that is the most inspiring music for a baby?"
But the beauty shrugged off the stick, as she commented below the video: "They have ordered me to do sport and dancing is great!"
Adriana in 2015 married Spanish footballer Sergio Abad, who turns out for lower league Valencian outfit UD Petrelense CF and this will be their first child together.
She previously hit the headlines in 2014 after being accused of cheating on a TV game show when she was caught with a mobile phone between her legs before she answered a single question.
And in 2017 she made the news again after her dress fell open – exposing her left nipple – on the GQ Awards red carpet in Madrid.