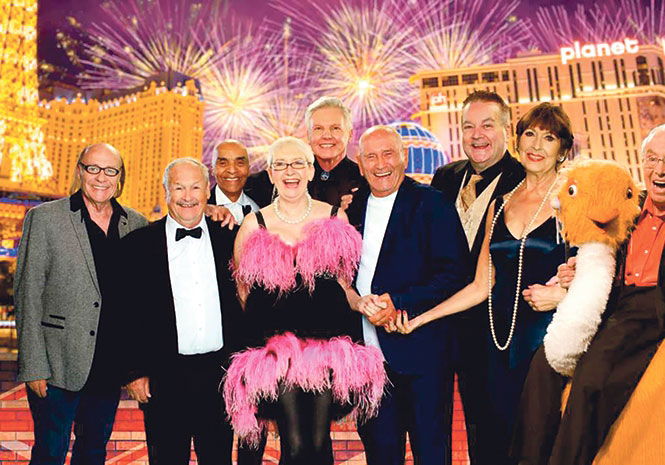 THERE is a lot to get through this week, so diving right in, Piers Morgan is back on Good Morning Britain, ITV weekday mornings and he didn't waste time laying into the government and the opposition for failing to put up a spokesperson to talk about the UK forces air strikes.
I agree with Piers (please, don't fall into your vino tinto) that surely someone, somewhere, should have been free to talk to GMB and provide an update on what was happening, enough said. 
Completely changing the subject, The Big Painting Challenge is back on BBC1 on Sunday evenings. Reverend Richard Coles (you will know him when you see him) and Mariella Frostrup (you think you know the name, I still have no idea who she is) are back guiding amateur painters through painting challenges each week.
If you remember Hannah Gordon's 'Easy Strokes' you might be disappointed but, if you are a fan of the 80's group The Communards (the Rev was a member) and/or the art of gentle painting, this one is for you.
As if to prove spring has sprung, Springtime on the Farm raced across Channel 5 last week serving up masses of celebrity contributions and stuff that happens on a farm. The celebrity contributor list read like something a BAFTA red carpet would be proud of, but what stood out for me was the resilience of the Nicholson family who have operated Cannon Hall farm for 60 plus years. I don't think the Nicholsons need celebrity friends to illustrate how brilliant they are. 
Anyone in need of a nostalgia boost might want to look out Last Laugh in Vegas, ITV Tuesdays. There are eight acts performing including Cannon and Ball and Su Pollard.
The gang travel to Las Vegas to put on one-last-show, directed by Frank Marino. Frank knows his stuff. He is the only person to have two stars on the Las Vegas Boulevard Walk of Fame and has raised millions of dollars for charity. Frank also badly needs a haircut.
The shows lead up to a one off performance, it has to be said in one of sin city's lesser known theatres and whatever Frank's weekly ratings might suggest, I'm sure the final show will be great. The real shock for me though is Bernie Clifton's voice, he is a great singer. Look out for a feature length episode coming to ITV3 soon. 
On Monday night David Attenborough and The Queen got together in The Queen's Green Planet, ITV. This regal documentary showcased Her Majesty's plan to create a patchwork of protected forests across all 53 Commonwealth countries.
There was a bit of staged eavesdropping where the pair chatted about health and safety with Her Majesty blaming a noisy helicopter on President Trump. Cameo appearances from William and Kate, predictably planting trees and then not so predictably catching salmon with their bare hands and by Prince Harry rounded off the sort of programme the BBC used to do much better, but which ITV now seem to have the 'By Royal Appointment' accolade.  
Happy viewing.