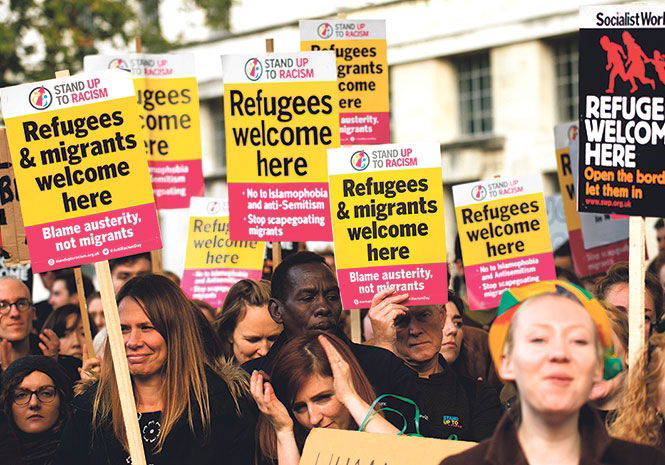 COUPLE of rants this week. First off, news that nearly two thirds of supposed, unaccompanied child refugees challenged about their real age after coming to Britain were found to be adults. 
In the year to June 2017, according to an official report, 65 per cent of asylum seekers assessed claiming to be juveniles had lied about being under 18 – some even in their 20's or 30's with flecks of grey hair!
What on earth is wrong with us? Why do we allow ourselves to be fleeced like this? When they get to the UK, these so-called 'children' are put into care which not only deprives real children of scarce foster home places, but can also mean adult males placed in children's homes amongst vulnerable young people. And the Home Office refuses to use medical checks on the migrants because it's 'unethical'!
All this amid reports that Britain is the only major western economy to meet the United Nations target for overseas aid…
News too about that other bastion of British life: the BBC. This, we are told, regularly flouts its own salary cap rules to inflate wages for its top earners – including presenters and programme editors. 
So, enormous salaries with equally enormous pensions all provided by you, the tax payer! Why? The BBC still operates under the illusion that 'the talent' is unique and irreplaceable, a belief strongly encouraged by the agents of said 'talent.'
Perhaps if the BBC spent more researching what their paying listeners and viewers want to see and hear rather than some of the fluff we're offered, we wouldn't mind these extortionate salaries. As it is, the rubbish on offer far outweighs the excellence. 
I can only assume the BBC has a 'Director of Discontent' and that he/she earns more than the Director of Content (who's on £325,000) because it's clearly the bigger, tougher, much more demanding job.
The BBC and the Home Office – two rants for the price of one this week! Next scandal, please!
Nora Johnson's thrillers 'The Girl in the Red Dress,' 'No Way Back,' 'Landscape of Lies,' 'Retribution,' 'Soul Stealer,' 'The De Clerambault Code' (www.nora-johnson.net) from Amazon in paperback/ eBook (€0.99;£0.99) and iBookstore. All profits to Costa del Sol Cudeca cancer charity.