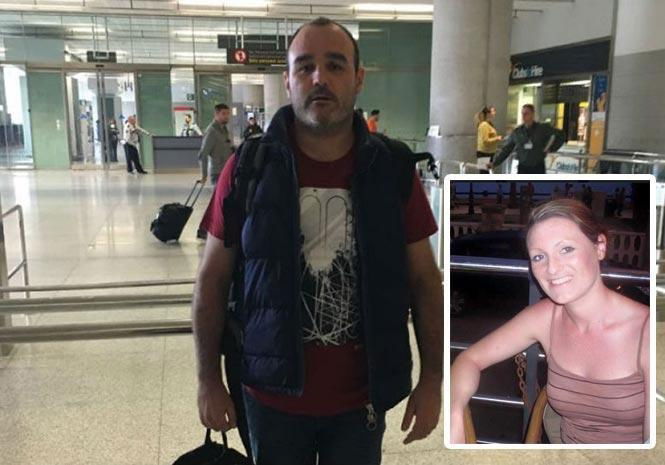 ON-THE-RUN Simon Corner, facing trial in Spain over the disappearance of missing Scottish mum Lisa Brown in Spain has been arrested at Heathrow Airport.
Corner, 35, has been served a European Arrest Warrant and held by police in the although it is not clear if he was entering or leaving the country.
Lisa's sister Helen said, "We are as happy as we can be.
"We expect extradition to run its course now.
"We don't think there's any chance he will be let out again by the Spanish courts before his trial."
Scottish mum-of-one Lisa, who was 32 when she vanished, was last seen at her home in Guadiaro near San Roque on November 4, 2015.
The alarm was raised when she failed to collect son Marco, then aged eight, from school.
Investigators have said they believed a 'violent episode' had taken place prior to her disappearance.
Originally from Alexandria in Dumbartonshire, Lisa worked in Gibraltar and detectives suspect that she was killed, but her body has never been found.
Liverpool-born yacht dealer Corner was held in Denmark on a European Arrest Warrant and extradited to Spain after fleeing the country in the wake of Lisa's disappearance.
Last April Corner was freed from an Algeciras prison on bail but he reportedly broke the terms of his agreement by failing to present himself at a Costa del Sol police station last month.
He was reportedly born Dean Woods and changed his name after repeated brushes with British police, but he has to date maintained his innocence in the case.
Only last month a new appeal for information on the disappearance of Lisa was launched on the Costa del Sol.
The appeal was supported by the Foreign and Commonwealth Office and Spanish authorities and is backed up by a reward of up to £100,000 from the family.
Simon Manley, British Ambassador to Spain appeared at the press conference at Los Barrios alongside Craig Douglas, brother of Lisa Brown and Roger Critchell, Director of Operations, Crimestoppers.
Also attending was the sub-delegate of the Government in Cadiz, Agustín Muñoz.
Craig Douglas, Ms Brown's brother, said their family believes that there is a 'wall of silence' among the English-speaking community in southern Spain over his sister's disappearance.
He said, "We are sure that people know what happened and ask them to think of a little boy who asks every night when his Mummy is coming home. We also hope that the reward might persuade people to tell us what happened."
Roger Critchell, Crimestoppers Director of Operations, added, "The family are desperate to find out what happened to Lisa. We understand that people are not always willing to go to the police so we would urge them to contact Crimestoppers with 100 per cent anonymity through our phone line and our online form."
British Ambassador Simon Manley said he hoped the launch of the appeal is effective.
"Citizen collaboration is essential in these kind of cases," the Ambassador said.
"Cooperation between Spanish and British security forces is another key element, and both countries have an excellent relationship in this field."
Those with information can contact Crimestoppers on 0800 555 111 and 900 555 111 in Spain or via the web form at https://crimestoppers-uk.org/give-information/give-information-online/.
The reward will be paid out to any providing substantial information leading to the arrest and conviction of those responsible or results in identifying the whereabouts of the body. The reward will be valid for six months dating from today, March 23.