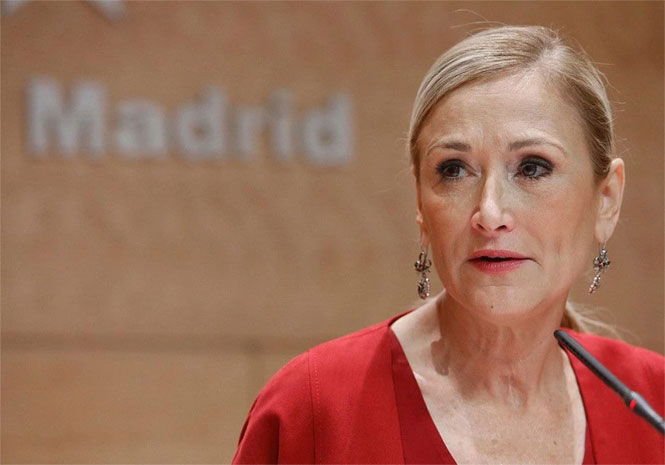 PRESSURE continues to engulf Madrid's Community leader Cristina Cifuentes after her degree scandal toppled another senior university figure.
It comes as Enrique Alvarez Conde, the director of the law institute that awarded Cifuentes with her disputed qualification, has been suspended.
He was suspended after producing a document to support the Popular Party (PP) politician's claim to the allegedly dubious master's degree from Madrid's Universidad Rey Juan Carlos (URJC).
Conde said that he had been pressured into supporting her, a claim that the URJC president, Javier Ramos, denies.
The suspension marks a tumultuous week that earlier saw the deputy director of the institute to resign earlier.
Laura Nuño quit her role after declaring that her signature – which validated Cifuentes' certificate – had been forged.
The scandal could be calamitous for the PP's leadership in Madrid, whose minority government relies on support from the centre-right Ciudadanos (C's) party, which is now demanding Cigfuentes' resignation as regional leader.
"There is no remedy. They (the PP) will continue putting their interests ahead of the people of Madrid. Cifuentes must resign and make way for an interim leader until 2019," an official said.
C's supported Cifuentes when she became Madrid's leader in 2015 on the basis that the PP would fight wrongdoing, including the falsification of degrees.  The left-wing PSOE and Podemos parties have also filed a non-confidence motion against the PP leader.
Despite this, Cifuentes continues to resist the calls for her to resign as she maintains her innocence.
But she is reportedly considering returning the degree that is pushing her political career towards the cliff face.
The URJC has revealed that it will carry out an internal investigation of all the university's schools and departments. If the probe uncovers clear  ́irregularities, ́'the university itself will rescind Cifuentes' Master's degree.
But the embattled official has refused to resign unless Prime Minister Mariano Rajoy asks her to, according to reports.
Rajoy has so far stood by her and told Spanish media: "She has given her explanations."
But he is reportedly waiting for the outcome of the internal investigation to see "where responsibilities lie," hinting that his support may not be unconditional.
Other PP members are suggesting that Cifuentes resign. The party's Ministry of Justice Rafael Catala said that the Madrid president should "take the necessary decisions."
Suspicion around the university – said to have close ties with the PP – grows as Spanish media suggest that Cifuentes failed to submit a thesis or attend classes.
Since the scandal broke, tens of diplomas and degrees have been removed from various politicians' CVs, suggesting that the issue may run much deeper.