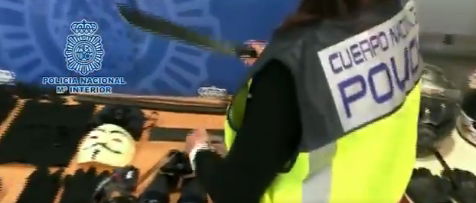 OFFICERS of the National Police have arrested 11 people (two of which were women) accused of committing armed robberies in Alicante Province.
The investigation started six months ago and police believe that they have identified those behind eight robberies carried out both Alicante and Murcia and have arrested the alleged gang including the ring leader who had three arrest warrants in place for him.
So dangerous was this mission that a special crime busting section of the National Police (GOES) was brought in and it was established that several members of the gang were responsible for monitoring their victims, collecting information about them, including home addresses, personal vehicles and work schedules.
The gang concentrated on people involved with banks, commercial establishments and entrepreneurs from whom they could obtain significant amounts of money or possessions.
Having satisfied themselves that they had identified all of those involved in the crimes, a combined operation between different units of the National Police was undertaken with targets in Benidorm, Elda and Alicante City.
As well as the arrests, four house searches were carried out, where officers seized four firearms, as well as a large quantity of ammunition, a Taser, masks shackles and €7,000 in cash.
Also seized was a high speed motorbike with false number plates and three other vehicles.
Of the eleven detainees – two women and nine men of different nationalities – four have been immediately remanded in custody including the alleged leader of the organisation who was wanted for two robberies with firearms and for evading custody.