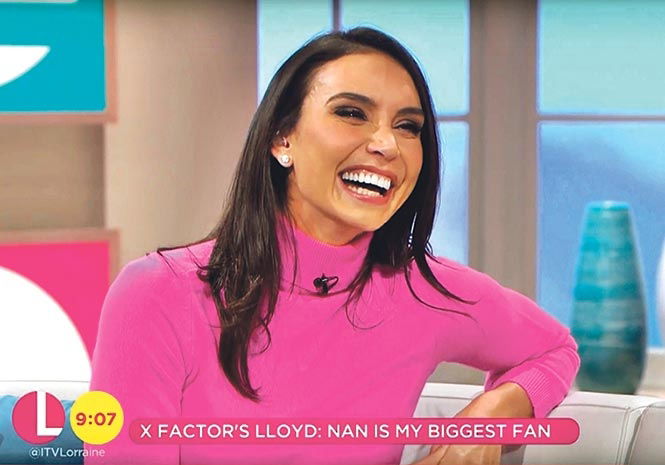 SEMANA SANTA was, for most of us, as glorious as ever across Spain, but it seems that TV presenters in the UK haven't realised that most of us went back to our usual day to day activities on April 2.
Lorraine (ITV, weekday mornings) is still on her Easter break and she must be confident that her fan base will gush once again when she returns, because the fabulous Christine Lampard has been doing a great job sitting in the hot seat whilst our Lorraine is off guzzling Easter eggs (unlikely) or sunning herself somewhere (possible).
Elsewhere, Rylan and Emma substituted for Phil and Holly and did a great job too. We know that Phil was in the Maldives because he made sure it was all over social media, but Holly was quiet, maybe she was in a chocolate egg-eating competition with Lorraine? 
Piers Morgan is still absent from Good Morning Britain. It seems that this week Eamonn Holmes (he has his own website you know, with a massive picture of himself on the front page) has been doing a little bit of filling in whilst Piers dines with Joan Collins and the like in LA.
I know that I'm risking an onslaught from loyal Piers fans if I dare even hint at another criticism of him, but if I'm honest, Eamonn is just as arrogant and dominating as Piers.
So if the 'Piers' job description is to be dominating, arrogant and to generally talk over or down to the female presenters, then my money is on Mr Holmes. And if you were watching GMB on Monday, I hope you caught Kate discovering, live on air, that she still had a roller in her hair – she laughed it off . 
In TV News, Britain's Got Talent returns to ITV on Saturday, perhaps with one half of Ant and Dec, and Richard Blackwood is leaving EastEnders. Richard is apparently pleased to be going. Really? Isn't that a little bit like a politician standing down to spend more time with their family?
Fans of First Dates might want to suggest alternative restaurant venues for the new series on Channel 4. It seems the show wants to move from its current location by St Paul's, maybe to a more 'hip' setting. My suggestion, although I'm clearly bias, is the beautiful Los Claveles bar and restaurant in Casares village. Fred would fit right in. 
The Voice has finally dragged itself to an end on ITV. Ruti Olajugbagbe, coached by Sir Tom Jones, was crowned winner and broke down in tears when her win was announced. Dreams by The Cranberries, will be her debut single, I hope it does well. 
Gogglebox has been making headlines for a mixed bag of reasons over the last few weeks. The show has been running for five years and we now know that Jenny and Lee, the two in a caravan and the Siddiquis are our most popular families. 
Happy viewing.