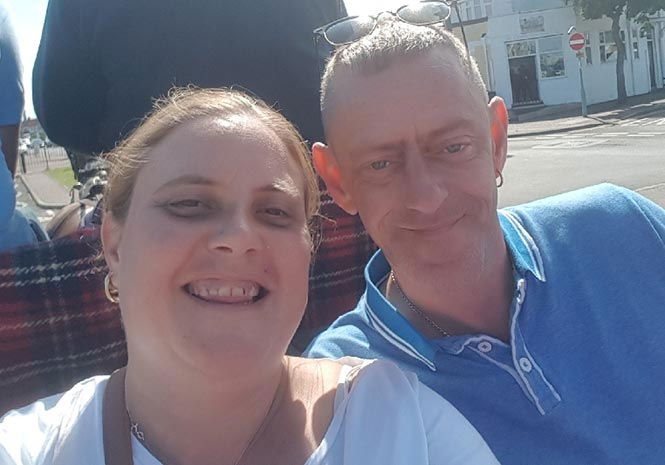 THE family of a British bus driver "trapped" in a Spanish prison in connection with a €4.6 million drugs swoop claim that he was set up.
Dad-of-seven Michael Penney was driving a luxury double-decker coach used to transport touring rock bands when police pulled the British-plated vehicle over on the AP-7 toll road in Valencia.
The 40-year-old from Margate, Kent, and his British co-driver, 59, were held and remanded in custody after more than 15 kilos of cocaine and 750 kilos of hashish were found stashed in hidden compartments under beds and behind cabinets.
The Spanish government's Valencia delegate, Juan Carlos Moragues, and regional Guardia Civil commander Amador Escalada congratulate officers on the haul in January. ©Guardia Civil
They were later denied bail by a Spanish judge, but ten weeks after his arrest Michael's wife Melissa, 34, insists that he is innocent and says she has been told that a police probe could go on for two years. 
Melissa – who has set up a fund-raising campaign to help her husband pay for a lawyer – told local UK media: "He would never get involved in drugs. He hates anything to do with that kind of thing and he has no convictions at all.
"We are going out of our mind with worry. He's keeping his head down and getting on with it as best as he can, but he's calling me in tears.
"His children miss him and I miss him.
"He has been set up. He would never get involved in anything like this.
"There are two innocent men stuck in Spain and nobody will listen to us."
It comes as a European Arrest Warrant has reportedly been issued for the owner of the coach firm.
Michael, a professional bus driver, was hired by a British company to fly to Spain and drive the vehicle back to the UK, his wife said.
It had been used by golfers taking part in a competition, and the owner allegedly travelled with the two men before flying back to Britain.
But as the men made their way up the Spanish coast they were stopped by Guardia Civil traffic police at a toll near Sagunto, half an hour north of Valencia, at 2.30am on the morning of January 23.
Investigators said at the time that they believed the coach was being used in an international plot to smuggle drugs from Spain to the UK.
Melissa claims she did not hear from Michael until six days after he was arrested.
"The kids are really upset," she added.
"They are putting on a brave face and saying 'we'll go to school and work hard for dad' but it's just terrible.
"We've been told it could take two years to fight the case."
A Foreign Office spokeswoman said: "We are providing assistance to two British men arrested in Valencia in January."