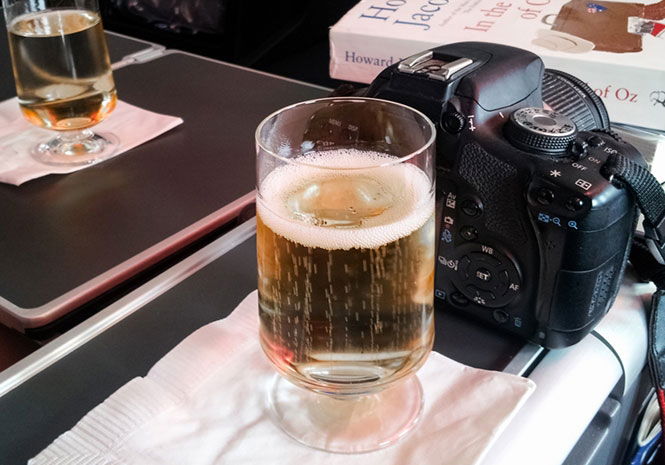 ALL alcohol bought at UK airport shops could be placed in sealed bags in a crackdown on disruption by drunken passengers under new government proposals.
The measure could be used to enforce a possible ban on travellers drinking their own alcohol on flights.
Tougher penalties for drunkenness on aircraft are also being proposed as well as overhauling licensing laws for airside restaurants and bars.
A recent report by a House of Lords committee also recommended that the Licensing Act 2003 should be extended to airside premises at airports in England and Wales.
According to the Civil Aviation Authority more than one in six people who have flown in the past three years have witnessed aggressive or drunken behaviour on board a flight and last year 420 disruptive passenger incidents were reported to the regulator.
The 'Aviation Strategy- next steps document' outlines proposals to improve the flying experience for passengers at every stage of their journey.
Existing laws prohibit a person being drunk on an aircraft, with a maximum punishment of two years in prison and an unlimited fine.
Aviation minister Baroness Sugg said, "Disruptive behaviour can ruin flights for both passengers and crew. Airports and airlines have made good progress in addressing this behaviour, but with incidents on the rise we want to examine the existing prevention work and penalties to see what more can be done."
"Working with industry, we want to improve the flying experience from booking to arrival, ensuring passengers are truly at the heart of the aviation sector.
"This demonstrates our commitment to creating a transport system which works for passengers as we build a Britain fit for the future."
The document also outlines how the government will work with industry to ensure all passengers have a dignified and comfortable travelling experience, including ways to improve accessibility at airports and on aircraft.
It will also include new measures to help passengers make a more informed choice about their flight including providing more transparency on additional costs.
The government is also providing more details about its ambitious plan to make Britain's aviation sector the world's greenest, including proposals to tackle issues around noise, greenhouse gas emissions and airspace congestion.
Environmental proposals include the introduction of new noise targets, strengthened noise controls at airports and improved compensation for people living near airports. The government will work with industry to reduce the usage of single-use plastics and improve recycling rates.
The government will also explore measures with industry to support the use of quieter and more fuel-efficient aircraft, as well as the emergence of electric and hybrid technology.
The 'next steps' document makes clear the government's commitment to ensuring the aviation sector continues to grow.
The sector already contributes at least £22 billion to the UK economy each year and the strategy will examine what can be done to help it develop even further.
The Aviation Strategy will be put to public consultation in the autumn, with the final version published early next year.