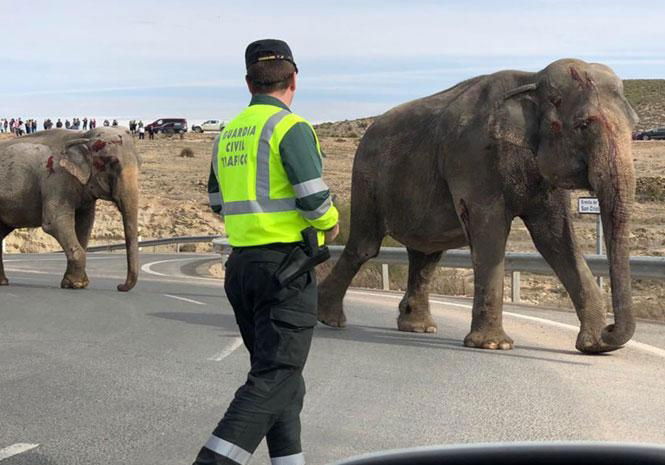 AN online petition is calling for a European Union-wide ban on the use of wild animals in circuses.
It comes after the shocking death of an elephant in Spain after a circus lorry carrying five animals overturned leaving two others seriously injured.
The online campaign set up by Raquel García Hermida says, "This tragedy could have been avoided.
"That's why I'm calling for the use of wild animals in circuses to be banned in the European Union.
She said, "Recent reports show shocking incidents involving the public and wild animals in circuses across Europe.
"These often involve circuses and animals which, travel all around the continent endangering the health and safety of European citizens.
"In Spain, a few weeks ago a hippo escaped for the fifth reported time.
Raquel added, "The elephants involved in this latest incident were on their way to their next performance location with Spanish Circus Gottani.
She claimed, "They had been smuggled out of Germany and were forced to France, Latvia, Lithuania, Ireland and, eventually, Spain.
Raquel alleged that the family who owns the elephants has a record of negligent behaviour which has led to several incidents.
"The large majority of EU Member States has already banned or severely restricted the use of wild animals in circuses. The veterinary community has already urged the European and other competent authorities to simply prohibit the use of wild mammals in travelling circuses. We too are calling for the end of the practice."
Raquel said, "It is time for the European Union to act. Only this can guarantee a solution to the physical and emotional suffering of wild animals in circuses and to the related public security risks.
Supporters of the petition (www.change.org/p/european-union-ban-wild-animals-in-circuses) on the change.org campaign page have added their support.
Katie Sanders said, "The use of these beautiful animals in circuses should stop."
Julie Wake added, "Wild animals should be just that – wild animals. And to use them as our entertainment is unacceptable."
"Ban all animals from circuses" added Sybil Ashton.
While Jillian Rowett said, "Wild animals have no place in circuses. Their lives must be hell. There are good animal conservation programs which can help save the species if they can't be released into the wild."