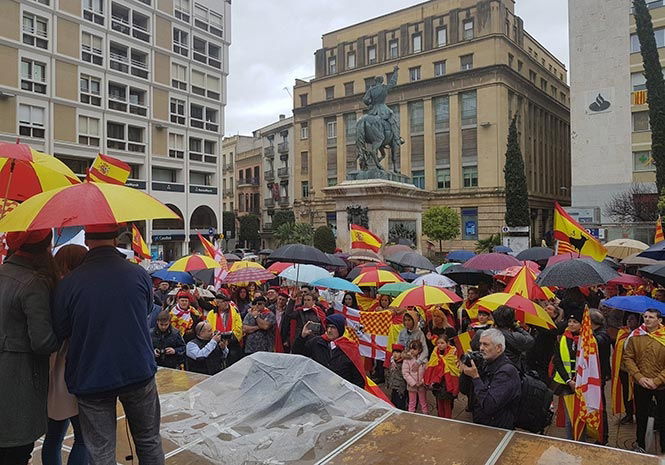 AROUND 150 people took part in a rally promoting Spanish unity in the town of Reus near Tarragona organised by the Tabarnia Platform yesterday (Sunday).
Those attending gathered in the town's square for the event organised by the spoof independence group. They carried Spanish flags and those of the fictional region of Tabarnia.
The Platform behind the event is involved in the tongue-in-cheek promotion of independence for the region in the spirit of the Catalan independence movement. Their humour is often used to highlight Spanish unity.
The rally featured a rendition of the Spanish national anthem with lyrics from the artist Marta Sanchez sung in Catalan. It was the first time the country's national song has been sung in the language, according to the group.
¡HISTÓRICO! Así suena el himno de España en Catalán. @acpecatalunya @PT_Tabarnia #PlataformaPorTabarnia #Tabarnia #Reus #8abrilEnReusTeVi pic.twitter.com/KlIQXKd4bA

— Plataforma por Tabarnia – Oficial (@PT_Tabarnia) 8 April 2018
The event also featured a floral offering to Juan Prim, a 19th Century Spanish Prime Minister from Reus who championed democracy. There was also a re-enactment of the Battle of Tetouan which Prim fought in in 1860.
The rally comes as Carles Puigdemont, the former President of Cataluña, remains in Germany awaiting a court decision on whether to allow his extradition to Spain on embezzlement charges.
The Spanish government claimed he misused public money to hold the Catalan independence referendum in October last year.