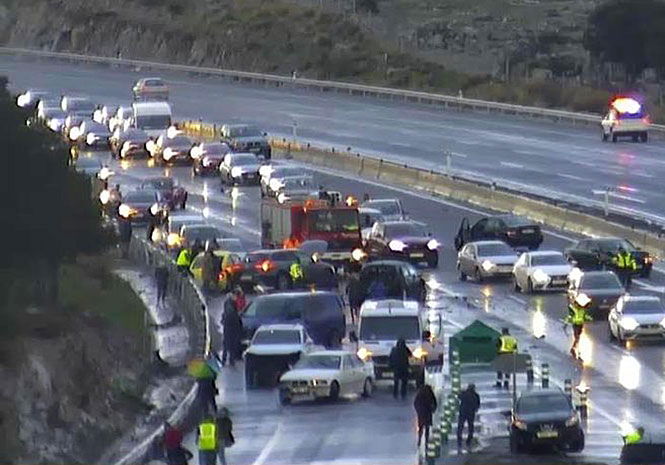 A 67-YEAR-OLD woman has died and 13 others injured in a multiple car smash on a major road in Spain.
The 112 Emergency Control Centre of Castilla y Leon said at least ten vehicles were involved in the accident at kilometre 74 of the AP-6 motorway at near Navas de San Antonio in the direction of La Coruña.
Firefighters had to cut one person free from one of the cars.
Six people were taken to hospital in Avila and another six to Segovia.
One other was treated at the scene of the accident.
Finalizada la atención sanitaria en el accidente de la autopista AP-6, en Navas de San Antonio #Segovia. 1 mujer fallecida y 13 personas atendidas por el personal de @Salud_JCYL , seis trasladadas al hospital de Segovia y seis al de Ávila, y una de ellas no necesitó traslado.




— 112 Castilla y León (@emecyl112) April 8, 2018
En #AP6 debido a una granizada se ha producido un accidente múltiple en el km 74 (San Rafael-Villacastín)->Coruña, donde se da paso por 1 carril. Retención de 1 km. Circula con precaución! pic.twitter.com/KvzW5aj4RQ

— Tráfico Autopistas (@infoautopista) April 8, 2018