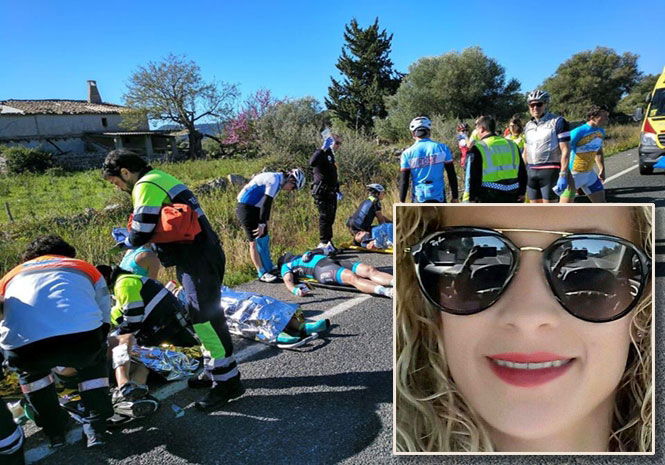 A SHOCKING selfie has appeared on social media that a user claims to be of the woman driver, who allegedly killed a cyclist and tested positive for drugs, taking a snap while driving.
One German cyclist died, two remain in a serious condition and six others suffered minor injuries after a car ploughed into them on the Spanish holiday island of Mallorca.
The horror smash involving a group of nine cyclists from Germany happened on the MA-15 road that links the towns of Arta and Capdepera. 
According to reports the local, female driver of a Porsche Cayenne, 28, tested positive for cannabis at the scene.
And yesterday Pere Servera, a resident on Mallorca, shared a photograph on Twitter where the alleged driver is shown taking a selfie while driving.
A reflection in the woman's sunglasses clearly shows the selfie snap was taken on the road while at the wheel.
The young woman appears smiling, inside her Porsche Cayenne, with the comment "What do you take to be happy? Decisions Happy of what I have."
Social network users asked Pere if he knew, with certainty if it was the woman involved in the fatal crash.
He replied, "It is what they say in the town.
"You should ask in Arta where young people know who they are and what they do".
A sports professional Oscar Pererio, has condemned the legal process, writing on Twitter, " I swear I do not understand how someone can run over a group, kill one of them, test positive in drug control and that at this time is not detained for what she has done. Change the damn law political lords who can not get out so cheap killing a person."