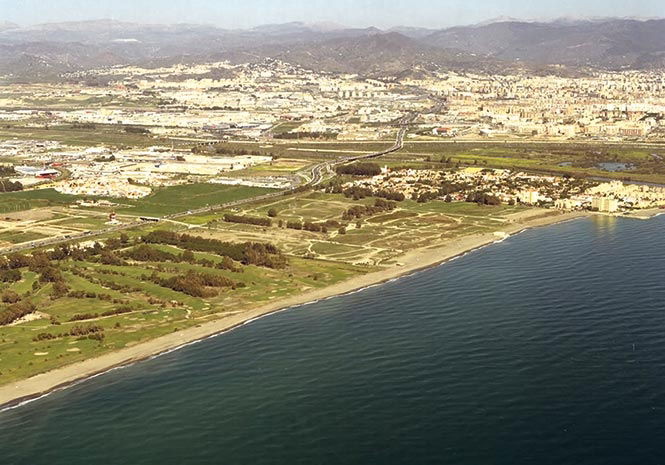 THE fight for one of the Costa del Sol's last virgin beaches goes on.
It comes as Malaga Football Club – owned by Qatari Royal Family member Sheikh Abdullah bin Nasser Al Thani – continues to fell trees on the site at Arraijanal, between Torremolinos and Malaga City.
The recently fenced plot is earmarked for a €6.5 million football academy.
But residents of the local Guadalmar community and nearby Churriana, plus a number of local scientists, nature-lovers and environmental campaign groups say that the project is illegal.
Police have this week moved to expel a number of activists who were camping near the site for a fortnight, leading to several climbing some of the last remaining trees, where they have remained for six days.
Police called firefighters to pull them down, but they refused to do so as their own wage row with the council rumbles on.
The fury triggered after local construction firm Bilba started work has seen a petition on the Change.org online platform draw more than 65,000 signatures, and the story has been picked up by national television.
Requests for work to be halted until the site can be properly mapped have now been submitted to Malaga Council, the Junta de Andalucia regional governmernt and Churriana Council, while a complaint has been filed with the Guardia Civil's nature protection arm SEPRONA.
Critics are adamant that they think the academy is a good idea, but that Arraijanal is not the right location.
An environmental impact analysis was allegedly conducted without an archaeologist present when official studies dating back to the late 1980's show that the plot houses important Roman remains.
It is also home to a range of wildlife including endangered plants and is an important corridor for 167 species of migratory and resident birds, according to one study.
Officials at the football club have thus far been unavailable for comment, but sources have reportedly assured local media that it has 'all the legal permits necessary to complete the first phase' of the project.
Mayor of Malaga Francisco de la Torre said this week that he "sees no grounds" for the protests, after the Euro Weekly News last week exclusively reported flaws that allegedly contravene European law in the environmental impact analysis submitted in support of the scheme.
But those in opposition to the site say they have received 'administrative silence' after their reports – supported by the University of Malaga – were filed at the beginning of March.