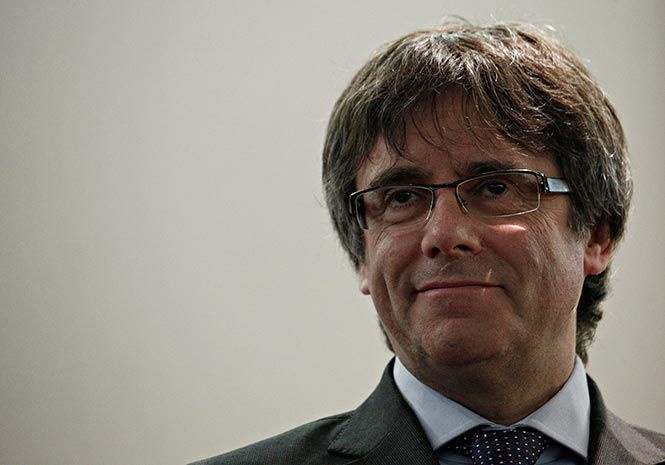 FORMER Catalan President Carles Puigdemont will not be extradited to Spain to face charges of rebellion following a ruling from a German court.
Puigdemont had to post a €75,000 bond for bail to the court in Schleswig-Holstein. He is now out of Neumünster prison where he has been held since March 25.
He will also be required to appear before the court once a week and not leave German soil. Authorities in the country are still weighing up whether or not to send him to Spain to face trial for the misuse of public funds.
Puigdemont is wanted in Spain for rebellion, sedition and the misuse of public money in connection with last year's Cataluña independence referendum.
Till Dunckel, a spokesperson for the former president's legal team, said the ruling represented a success.
"Our client has always expressed his confidence in German justice," he added.
The court ruled that the crime of rebellion was "inadmissible" because the charge does not appear in the German Penal Code.
Puigdemont had also not exercised violence or a threat of violence enough during his attempts to break Cataluña away from Spain to warrant his transfer for trial there.
Therefore his actions did not meet the threshold for him to be charged with the closest German equivalent crime of high treason, according to the ruling.
"The acts that are imputed to him would not be punishable in Germany according to the legislation in force here," the ruling stated.
The court will now decide if there is an equivalence between the crimes of embezzling public funds and corruption. Prosecutors claim the cost to the Spanish state of the referendum was €1.6 million.
Puigdemont's defence counsel said it was impossible to determine how much of that figure came from public funds or from private financial support.