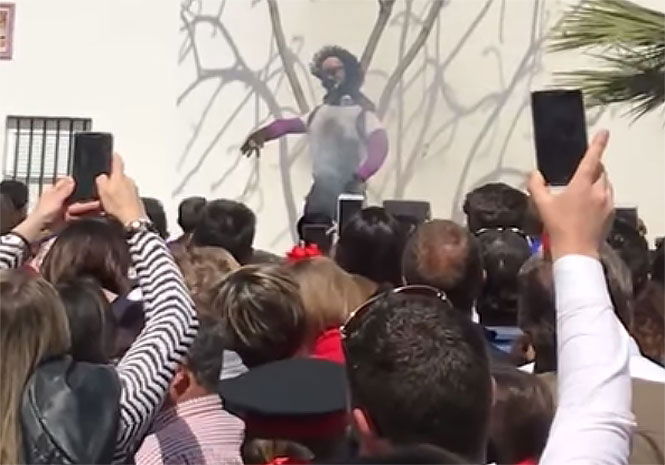 THE parents of murdered eight-year-old Gabriel Cruz have condemned the shooting and burning of an effigy of his alleged killer, Ana Julia Quezada, at an Easter event in Spain.
The woman, the 43-year-old girlfriend of Gabriel's father, was arrested by police after the little boy's body was eventually found in the boot of her car.
The disappearance of the child from Las Hortichuelas, near Nijar in Almeria in February had sparked a huge search involving thousands of people.
But a traditional Easter event, the Burning of the Judas in Coripe in the province of Sevilla in southern Spain has sparked a new outrage after an effigy of Ana Julia Quezada was strung up from a tree, shot at and, eventually, burnt.
The event that is celebrated every year in the main square of the town after the Mass on Easter Sunday is declared a 'Festival of National Tourist Interest in Andalucia.'
But the choice of a doll that represented Ana Julia Quezada led to Gabriel's parents, Patricia Ramirez and Angel Cruz declaring their 'frustration, sadness and regret'.
"It has taken us a huge effort to read the news and we have not had enough strength to watch the videos posted on the Internet.
"We are astonished at the same time that so many thousands of people could see such a show of anger and indignation", they said in a statement.
"Although, allow us, the pain and anger that we feel for the loss of Gabriel is incalculably more intense and painful, not being able to agree in any case with this action, where anger and ill-expressed pain they win the game of good work and common sense", they said.