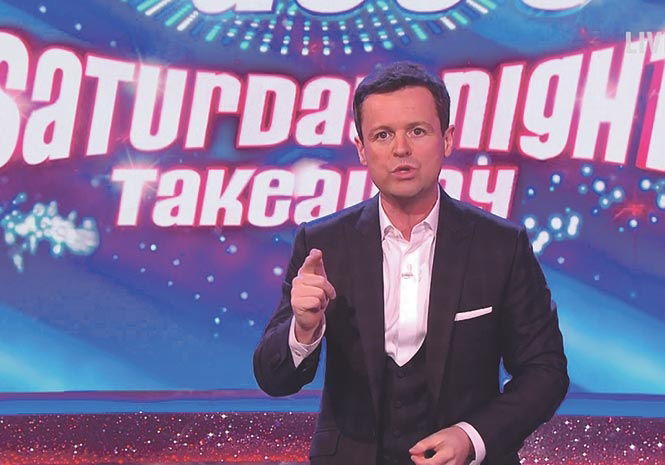 FANS of Saturday Night Take Away, Saturday ITV might have wondered how the show would feel with Dec flying solo for the final programmes.
The show is after all Ant & Dec's Take Away and we all know that the Two Ronnies wouldn't have been the same with just one pair of enormous black rimmed glasses. 
So, the big question was something like 'will Dec cope without Ant'? Answer, Yes. There were the predictable mutterings in some of the Sunday newspapers about Dec's body language showing he was nervous and him speaking more quickly than usual, but I didn't notice any problems. Of course there was an Ant-shaped gap for most of the show, but it lost none of the energy and bounce fans tune in for. 
The penultimate show was packed with a gaggle of stars including Davina McCall and Paloma Faith and didn't Paloma look stunning in red leather? The 'This Time Next Year' segment featured Davina wearing enormous white boats, rather than shoes and a lovely Mum who was poorly on Mother's Day weekend so was surprised by her children last Saturday. 
Her son Paul sang with the Jersey Boys, daughter Katie conquered her fear of flying with some therapy and a packet of hob-nobs (who knew?) and second son Craig sat so far away from Davina on the sofa I think they must have had competing aftershave and perfume on – clearly someone was worried about them getting too close. Oh and Craig introduced Mum's half-sister who nobody had seen for 30 years. 
Cilla would have been proud. The final Take Away of the current run is on ITV on April 7. 
In TV news this week, Ben Fogle claims he was sacked from Countryfile because he sounded too posh. Well, the sacking was in 2009 and I don't think him sounding too posh was the real issue, do you? The Island with that Bear bloke is back and social media went into meltdown when the contestants were split into two groups according to their income. 
The 'rich' team didn't want to engage with the 'not so rich' team – I didn't want to engage with any of them to be honest. Picture you knowing you are on a TV show, on an island and your outfit of choice is a black bikini top under a wet, white t-shirt and you are half way there. Oh, and the Have I Got News for You team are ramping up for yet another series of this never-ending show by claiming female politicians are not robust enough to host the show. Bull, red rag, you do the maths. 
Another duo in the form of Mel and Sue have brought The Generation Game back to BBC1 on Sunday evenings, albeit for a very short run. I'm not sure what some people were expecting, but a show born and raised in the 1970's was always going to look just a little bit naff in 2018 and rely on some canned laughter. We still have the conveyor belt of prizes and if you are old enough to remember Sir Bruce and the cuddly toy, you probably weren't disappointed. 
Finally this week, BBC TV is covering the 21st Commonwealth Games until April 15. If the opening ceremony was anything to go by, we are in for a sporting treat. Happy viewing.