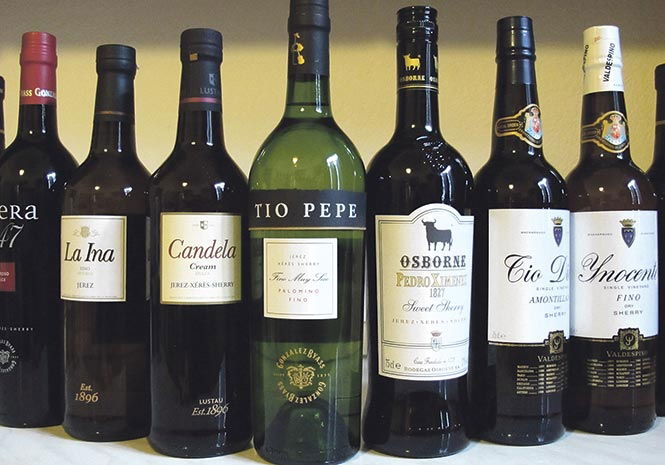 SHERRY, an anglicisation of the Spanish Jerez, is a fortified wine from white grapes grown near Jerez de la Frontera in Andalucia. 
After fermentation the wines are fortified with grape spirit to increase the final alcohol content. Wines suitable for ageing as Fino and Manzanilla are fortified until they reach a total alcohol content of 15.5 per cent. As they age in barrel, the wines develop natural yeast known as flor that helps protect them from excessive oxidation. 
Wines chosen to undergo ageing as Oloroso are fortified to reach an alcohol content of at least 17. They do not develop flor and oxidise slightly as they age, giving them a darker colour. 
Because fortification takes place after fermentation, most Sherries are initially dry, with any sweetness added later. 
Jerez has been a centre of viniculture since Phoenician times in 1100 BC, with the Moors – after conquering the region – introducing distillation and producing brandy and fortified wine.
During the Moorish period, the town was called Sherish, from which both Sherry and Jerez are derived. 
By the end of the 16th century, sherry had a reputation as the world's finest wine and both Christopher Columbus and Ferdinand Magellan took it on voyages to the New World. 
Because sherry was heavily exported to the UK many of the Jerez cellars were founded by British families. 
Wines from different years are aged and blended before bottling, so sherry bottles do not usually carry a specific vintage year. 
Sherry is traditionally drunk from a copita or catavino, a special tulip-shaped glass. 
Happy tasting.