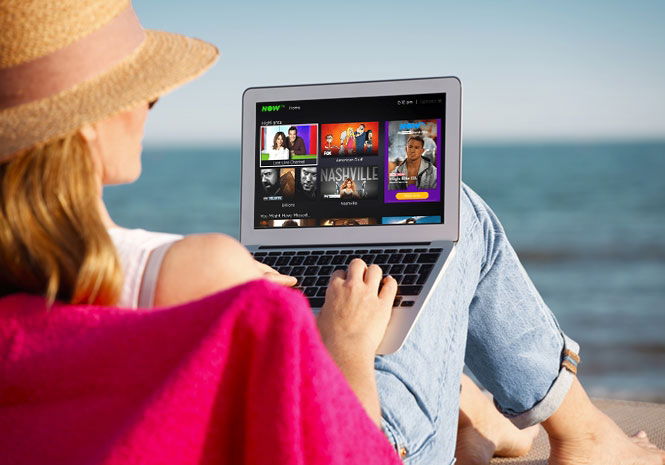 NEW legislation that has come into effect this week will allow Brits to use their streaming services wherever they are in Europe.
From April 1 the EU's introduction of new portability rules for online content services will mean Brits can legally stream their favourite TV unrestricted across the EU.
Broadcasters including Sky and Amazon are to allow Brits on the beach to access their pay-TV subscriptions while they're on their holidays via online TV services NOW TV, ITV Hub+ and Prime Instant Video. 
"Holidays are all about unwinding and its clear TV is a big part of how Brits relax, so it's great news that from April 1st you can swap your sofa for a sunbed and your cuppa for a cocktail and never have to worry about missing your favourite TV on holiday again." – Gidon Katz, managing director of  NOW TV.
Previously, travellers could not legally access UK TV on devices in mainland Europe, forcing TV fans to either miss their favourite shows, watch local TV or turn to illegal streaming services to get their fix.
NOW TV has conducted research to show the lengths Brits go to watch TV whilst away.
The research reveals just how far Brits will go to get their TV fix abroad, as nearly half (46%) admit to missing TV so much they end up watching foreign shows they don't understand.
Shockingly, 30 per cent of 18 to 34-years-old even confessed to missing a trip abroad or changing their holiday dates so they didn't miss their favourite show or big match on TV.
Men, in particular, can't kick their football habit with one in six (16%) confessing they have spent hours walking from bar to bar to find somewhere to watch sport. And instead of relaxing on their break three in five (59%) spend time on holiday worrying about missing an important match.
Over a quarter of people (26%) admitted to sitting through a foreign game show despite not understanding either the questions or answers, 4% were brave enough to knock on a local's door and ask to watch their television and 6% travelled to a neighbouring town in search of a TV screen.
While pay-TV services are being forced to provide their customers with access, providers of free TV have been given the choice and the BBC will not follow suit. 
"We are interested in being able to allow UK licence fee payers to access BBC iPlayer while they are on holiday, and welcome the European Union regulation to help make this feasible," said a spokesman for the BBC.
"There are complex technical issues to resolve which we are investigating and it will be dependent on what legislation is in effect in the UK in the future."
And neither are Channel 4 and ITV making their free services available for access on the continent.