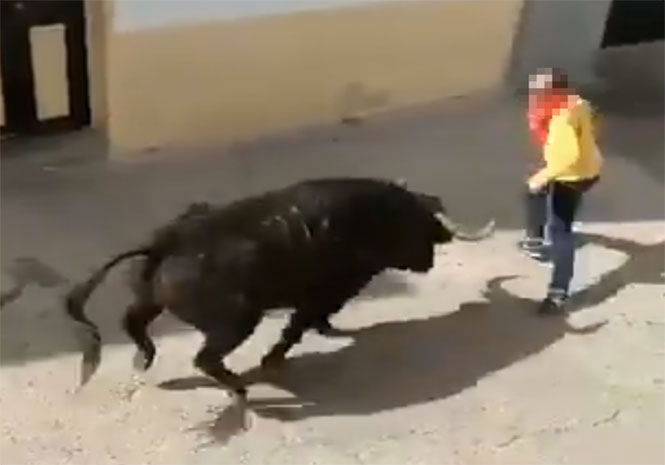 A MAN has been fatally gored at an Easter bull-running festival in southern Spain and a further 20 people have been injured – one seriously.
The well-known local man, in his fifties, was gored in the lungs by a 510-kilo bull named Trampero, in the first run of the bulls at the festival in Arcos de la Frontera in Andalucia.
Despite being rushed to hospital in Jerez the man died from his injuries.
Shocking video of the incident that drew screams from horrified onlookers has been widely circulated on Twitter.
Another man was reported seriously injured in the second bull run when his stomach was pierced. He was treated at the field hospital before being transferred to Villamartin.
More than 20 minor injuries were reported during the afternoon.
Over 120 safety and security personnel took part in the festival including Guardia Civil officers, Local Police, Civil Protection volunteers and paramedics.
In a statement, the mayor, Isidoro Gambin, expressed his "support and affection" towards the family and close friends of the deceased.
Although video of the fatal goring has been widely circulated on Spanish and social media the Euro Weekly News has made an editorial decision not to show the shocking footage.
Lamentamos profundamente el fallecimiento del arcense B.L.B., por las graves heridas sufridas tras la cogida del primer toro. El Alcalde lo quiere hacer saber públicamente, así como el apoyo y colaboración a sus familiares y allegados. D.E.P.#TorodelAleluya2018

— AyuntamientodeArcos (@ArcosCiudad) April 1, 2018