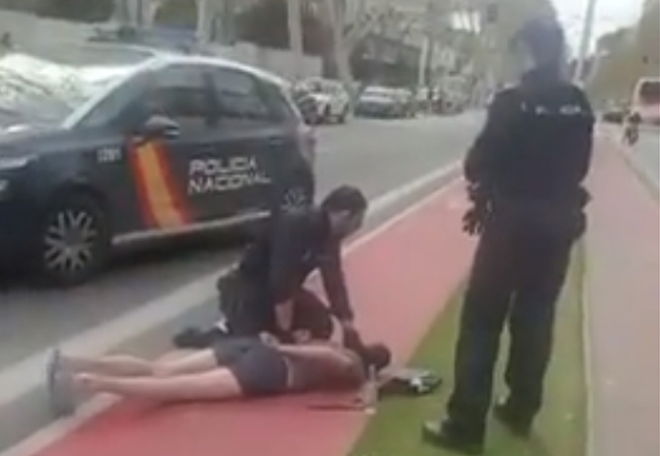 THIS is the shocking moment that a 'drunk' British holidaymaker was held by Spanish police after allegedly stealing a Coca Cola delivery lorry in Benidorm.
The footage shows the unnamed man shouting in English while being pinned down by an officer as horrified pedestrians look on.
He reportedly made off in the vehicle while the driver and his colleague were making a delivery on the corner of avenida Mediterraneo and calle Filipinas, before crashing into a parked car.
The video was shot by one of the delivery men, who explains that "this drunk foreigner stole our lorry and everyone is watching.
"We called the police and pulled him out before they arrived.
"It was just unbelievable."
The culprit reportedly refused to undergo a breathalyser test before he was taken away, but it is unclear if he has been held in custody."
As he protests one of the police officers is heard to say in English: "Don't move a bit, buddy."
Benidorm's security councillor Lorenzo Martinez told local press that the dramatic incident showed "once again how effective our police are."
[iframe width="560″ height="315″ src="https://www.youtube.com/embed/LktePv9lek8″ frameborder="0″ allow="autoplay; encrypted-media" allowfullscreen ]