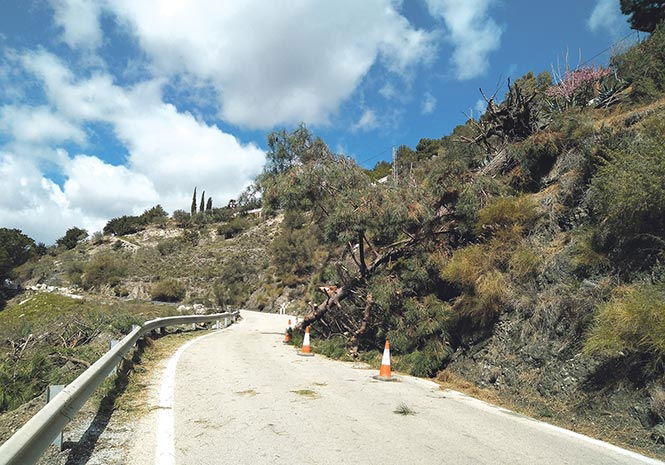 EXTREME weather conditions have wreaked havoc on some of Axarquia's roads.
Strong gusts of wind felled trees in some areas, while others experienced snowfall and heavy rain.  Weather conditions are expected to improve over the coming week, however, with temperatures reaching a maximum of 20 degrees over the Easter weekend.
During this week's dramatic weather, one large pine fell across the A7207 Torrox-Competa road, forcing motorists to edge along the mountain's edge to pass by. 
Branches and debris also littered the roads until workers were able to cone off and later remove the tree. 
Some residents also reported falling roof tiles, landslides, metal rods buckling under the force of the wind and even walls collapsing. In Canillas de Albaida, Alfarnate and Alfarnatejo, others reported snowfall, with some settling on the countryside.
Jorge Martin, the mayor of Canillas de Albaida, explained the snow had not caused any problems in the town and did not pose a risk to motorists as it had not settled on the main road.  The snow fell for just over one hour while the outside temperature measured nine degrees.
Overnight temperatures in several mountain towns, including Competa and Archez, fell to around minus one.