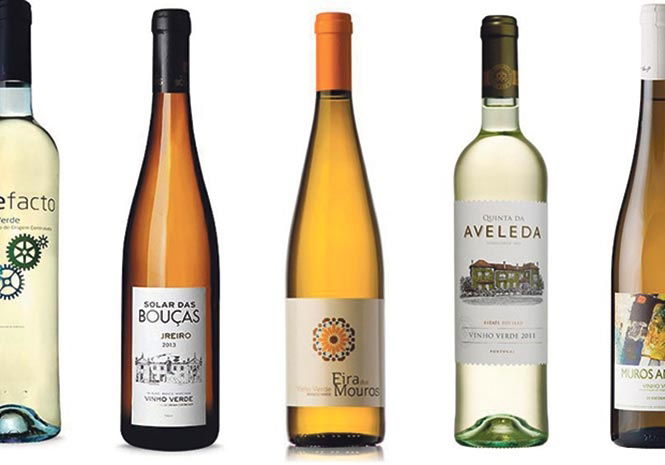 VINHO VERDE is not a 'green' wine nor a grape, but a region (DOC) for its production.
It may be red, white or rose, and translates as 'young wine' usually consumed three to six months after harvest. Vinho Verde in northern Portugal – the nation's largest wine region – has produced wine for more than 2,000 years, and is now responsible for approximately 85 million litres each year, of which 86 per cent is white. 
Made from local grape varieties Loureiro, Arinto, Trajadura, Avesso, and Azal, the whites are lemon – or straw-coloured with 8.5 to 11 per cent alcohol. The most successful is Alvarinho, which displays tropical aromas, an overall lemony character, high acidity and alcohol levels, and Loureiro which is more floral. 
White Vinho Verde are light and fresh and known for vibrant fruit, natural acidity and low alcohol which makes them ideal for pairing with seafood, salads and Asian cuisine, or served as an aperitif.
The reds made mostly from Vinhão, Borraçal and Amaral grapes have an inky texture, are low in alcohol, have sour flavours and are seldom exported.  The roses are fresh and fruity, and usually from Espadeiro and Padeiro grapes. 
Many of the Vinho Verde wines have a light fizz, originally a natural by-product of fermentation in the bottle, but nowadays a result of added carbon dioxide mainly for en-masse export as better labels do not have any bubbles. 
The Vinho Verde image as a young wine has led importers pressing producers to deliver wines freshly bottled, thereby preventing the development of high quality single-varietal labels. Popularity of Vinho Verde has surged in the last decade with consumers discovering it as one of the most affordable and versatile wines on the market, with prices from around €5.
Happy tasting.