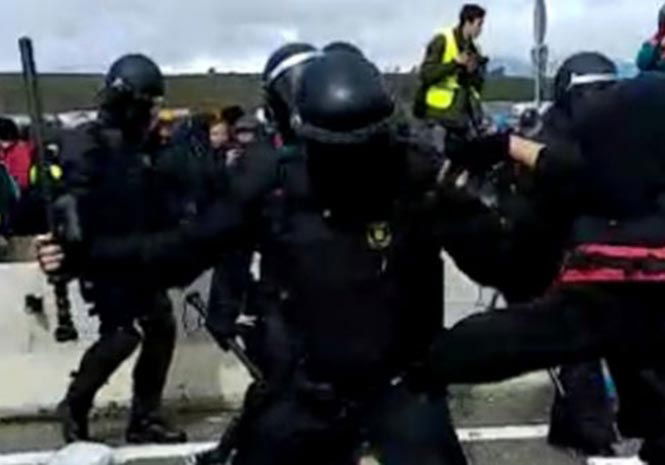 THE Mossos d'Esquadra police in Barcelona have clashed with protestors on the AP-7 in Girona as they begin to remove them from the motorway in Spain.
Footage shows police punching and beating people with batons who refused to move off the motorway.
Demonstrators had cut off the busy road this morning (Tuesday), as part of the protests following the news of former Catalan leader Carles Puigdemont's arrest in Germany.
Elsewhere protestors had blocked roads in Barcelona on Avenida Diagonal and on the N-340 and A-2.
Imágenes de violencia de los Mossos en la AP-7 … La resistencia pacífica de las CDRs es castigada con más y más represión policial. pic.twitter.com/mh0xzBqHia

— Lagarder Activista? (@lagarder81) March 27, 2018



Important que la resistència sigui pacífica.
Som gent de pau

Els Mossos desallotgen els manifestants que tallen l'AP-7 https://t.co/cWYnxXAkDi pic.twitter.com/IN5ZKjpGJC




— Octavi Nonell ll⭐ll (@Pepsina_Mataro) March 27, 2018