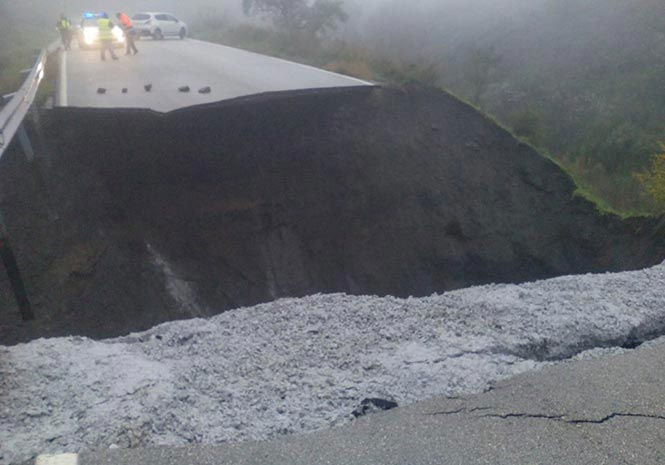 THE damaged mountain road between Salares and Archez will be closed for another month.
The provincial council has announced works to the collapsed road will take at least another month, weather conditions permitting.
Elias Bendodo, President of the Provincial Council, visited the sink hole on the MA-4108 alongside Carmen Moreno, mayor of Archez, Obdulio Perez, mayor of Competa, and Jorge Martin, mayor of Canillas de Albaida. It is expected the project to repair the road will cost around €250,000.
The damage occurred earlier this month when the road's tarmac dramatically fell away in one section following heavy rainfall, leaving drivers unable to cross. Politicians and residents are now calling on the governing Partido Popular council to repair the damage "immediately," claiming the road had been "abandoned."
Other motorists were also affected by storms with one driver having to be rescued from the Rio Seco in Torre del Mar. 
Firemen were forced to intervene after a car was dragged into the currents as it tried to cross the normally dry riverbed. The vehicle was reportedly dragged to the Rio Seco Bridge around 50 metres from the mouth of the river, causing firefighters to rescue the driver.