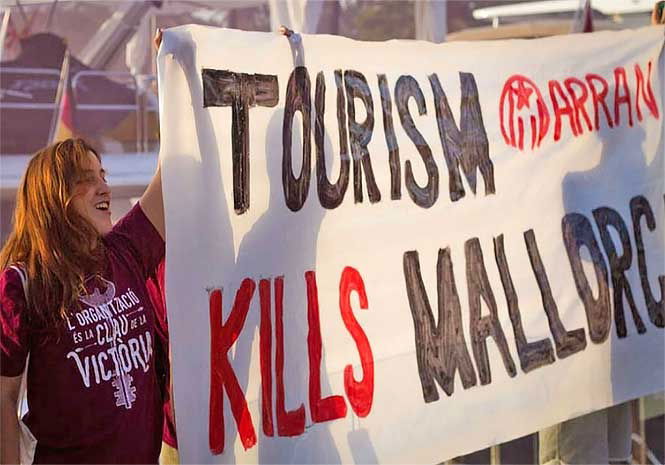 TWO campaign groups in Spain have threatened to continue their protests against 'saturated tourism' in the country.
Political groups Arran and Endavant Mallorca say locals are being priced out of the housing market because people with homes to rent are letting them out for higher prices to holidaymakers instead.
Last year demonstrations against mass-tourism in Spain, both in the Balearic Islands and on the Spanish mainland, included slashing the tyres of tourist bikes, putting superglue in the locks of tourist establishments and spraying graffiti with anti-tourist messages on coaches.
The groups have vowed to resume their protests this year that last year also saw coaches full of tourists having eggs thrown at them and setting off flares in Palma marina.
A mob of 30 people also stormed a Barcelona hotel to protest about "over-crowded" tourism
The two groups stress they are not anti-tourism, just anti "saturated tourism".
Endavant Mallorca said on Twitter, "More than 95,000 tourist apartments. Stop the tourism rentals. We defend the right to housing! Let's conquer the future!"
Currently 12 members of Arran are facing court action over the Palma marina incident but defend it saying there was no harm and no violence.